When your goal is to get inside of the Octagon and physically dominate another human being, to crush their dreams with your bare hands and to walk away with a big pile of money while leaving them broke and hungry, it usually helps if you aren't best friends. Here are some prime examples of fighters that weren't best friends, to say the least.
Ronda Rousey and Miesha Tate
Before Ronda and Miesha fought for the first time, Miesha Tate was on top of the world. She had just won the Invicta belt, and was hitting her prime in a time when women's MMA was finally poised to get some mainstream attention. She had it all, until Ronda Rousey came along and snatched away that belt and claimed superstar status for herself. When you already don't get along with somebody, and then they come out of nowhere to crush your dreams, it's no wonder there's some bad blood between these bad bitches.
Rampage Jackson and Rashad Evans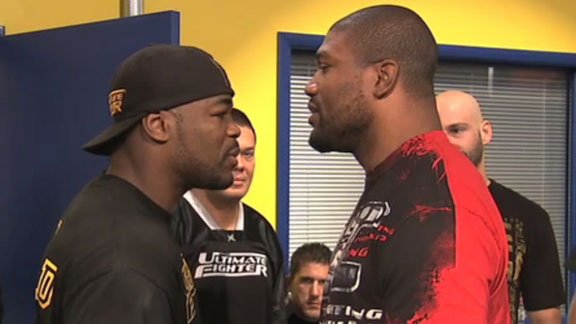 "Treat me like a bitch." One of the most heated and most memorable rivalries from The Ultimate Fighter. Rampage kicked a door's ass, then got his own ass kicked by Rashad. Hopefully Rampage gets his breaking-contract-with-Bellator issues sorted out soon because the lead-up to a Rampage vs Rashad 2 would be really entertaining, maybe more so than the fight itself.
Page 1 of 6: