UFC 193: Rousey vs Holm took place on November 15th, 2015.
It's been over a year since then, and we've barely heard or seen anything from Ronda Rousey. She used to dominate the headlines and the talk shows and, of course, the MMA media, but lately it's been relative silence out of the Rousey camp. After a tough loss, it's understandable that some people prefer to keep to themselves a bit, especially after such a massive media overload leading up to the fight and for a couple years prior.
As we all know, Ronda was masterfully KO'd by Holly Holm, who put on a dominating performance and exposed a lot of weaknesses in the former Champ. Since then, the belt has changed hands a few times, ultimately waiting to see when Ronda would make her comeback. She's finally got a fight announced, taking on the current champ Amanda Nunes.
It took months for Ronda's face to heal after getting kicked by Holly, but time doesn't heal all wounds…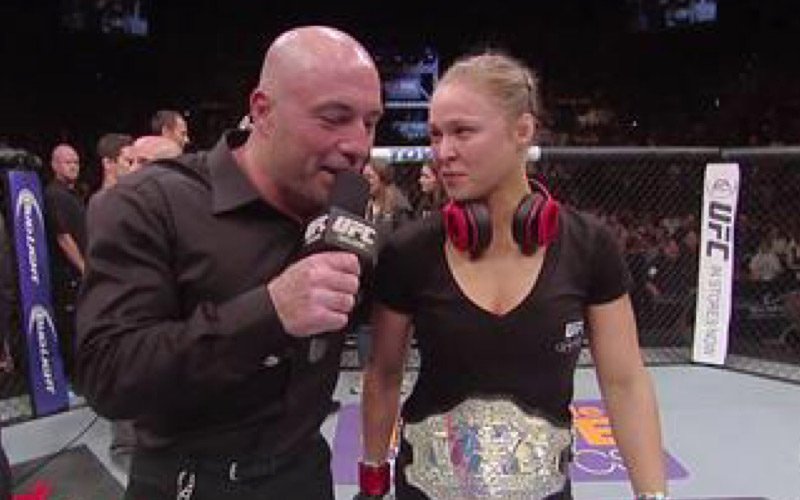 Joey Diaz is a stand-up comedian who has a reputation of being a very real dude. Joe Rogan considers him the funniest stand-up comedian working, and he is best friends with Joe and generally has some ties to the world of MMA. On a recent episode of Joey's podcast, he let it leak that Ronda Rousey is apparantly "FURIOUS" at Joe Rogan and a lot of the other MMA personalities for not standing by her better after her loss.
Prior to fighting Holly, Joe was on the record as one of the biggest Ronda-hypers of them all. He was driving the hype train with some of the over-the-top statements he'd make about her, in particularly hyping up her striking to out-of-this-world levels.
But after her loss, she feels like she's been thrown under the bus by Joe, according to Diaz:
Page 1 of 2: