Bret Hart vs Shawn Michaels – The Montreal Screwjob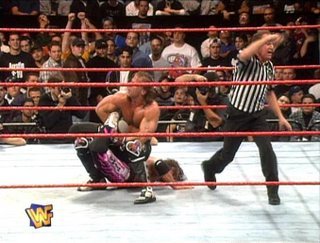 Bret Hart was leaving the WWF to perform for a rival promotion, so behind the scenes they decided to make sure he didn't go out as the champion because that's a bad look for Vince & Co. Hart and Michaels had a long history of not liking one another, and Hart refused to lose to Michaels and went into their bout thinking he'd have his way – but he was mistaken. Granted, this one never turned into a real brawl between both fighters, but it's still one of the most famous examples of pro wrestling veering from the script. Backstage, Hart legitimately knocked out Vince McMahon for betraying him.
Daniel Puder vs Kurt Angle
Puder is undefeated in mixed martial arts with a record of 8-0, and you can see things getting real when he locks up that kimura. Before the start of this video, Angle broke several ribs of the winner of the Tough Enough show, and Puder (2nd place on the show) stepped up to what was supposed to be a simple grappling match. When Kurt almost had his arm snapped, the ref noticed and gave Kurt the count before any serious damage (beyond ego) could be done.
Continue to page 4:
Page 3 of 4: