Let's face it, MMA fighters aren't necessarily known for making the best decisions. Let's cut right to the chase, here are some MMA-related tattoos belonging to fighters and fans. Some are just bad, some are so bad they're good, some fall somewhere in between… There's even a few that are actually pretty good, too.
CONNOR'S ARC
Just as McGregor's gorilla was starting to grow on people, he invited another animal onto his Arc. He describes it, "If you see the Tiger it's too late. You're food."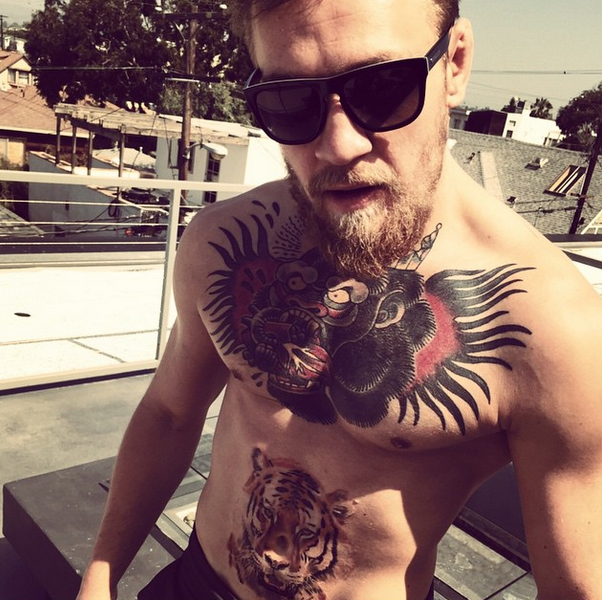 WISH YOU WERE HERE
It's hard not to like Cub, he's a very entertaining fighter and an all around good dude. When it comes to the belt, however, he's the type of guy who wins, gets really close, then falls short.. then puts together another streak, comes really short, doesn't quite make it but you can't help but root for him. When it comes to turning your body into a postcard for southern Cali, Cub totally nailed it on his first try.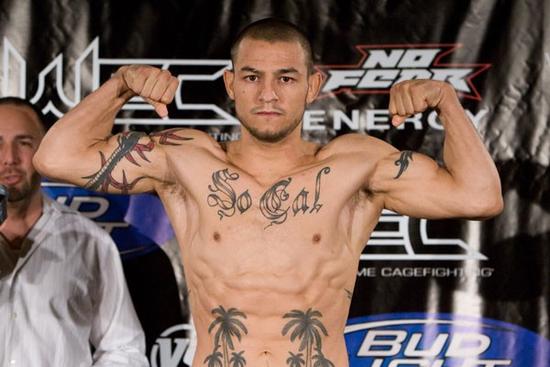 "GIMME THE WORKS"
That might be what Jeff Monson asked for when he went to get his stomach tattoo done. If you can't decide between a "NO MASTERS" skull and the word "SOLIDARITY"… First of all get your shit together. Secondly, just get both.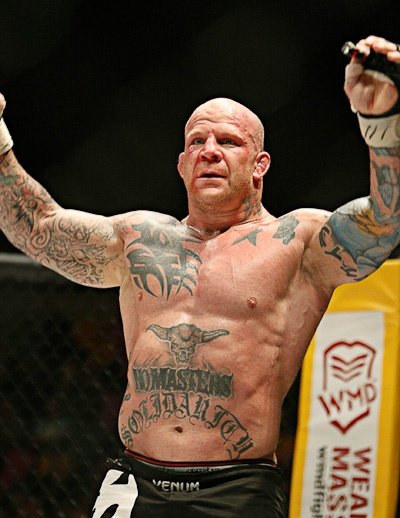 COMPANY MAN
Buzz Berry doesn't give a damn about working for any other promotions, he knows who puts the food on his table. CAGE RAGE FOREVER! Literally FOREVER.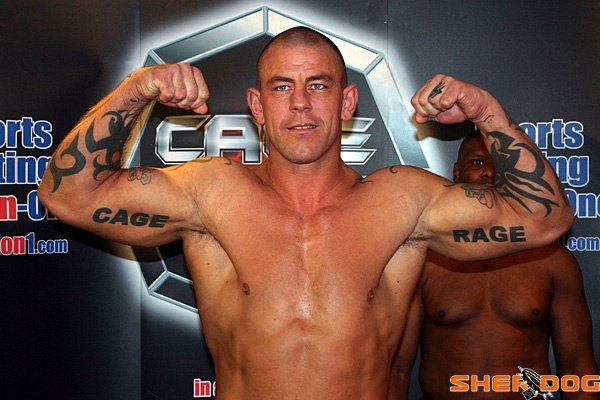 WRONG EAGLE, BRO…
Protip: Don't get Nazi symbols tattooed onto your chest, especially if your line of work involves taking off your shirt infront of large groups of people.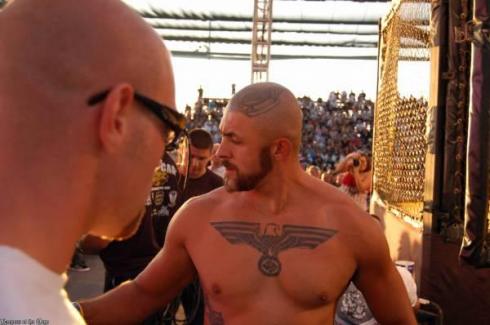 POUND FOR POUND WORST TATTOOS?
Recognize that dorky bird? Let's pan down to see what, amazingly, isn't Melvin Costa's worst tattoo. We showed you the other one first, otherwise there's no way you would believe this dude has a tattoo worse than "I have a small penis."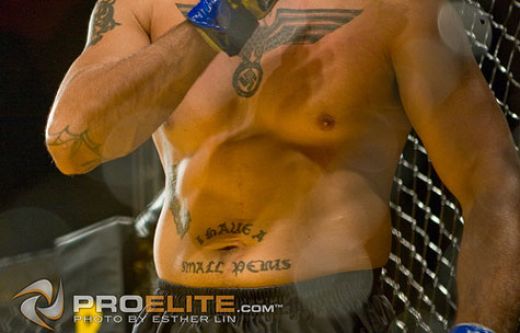 LIKE MIKE
Paulo Filho is taking a page out of Tyson's book with this tribal face monstrosity. Wonder if it's awkward if they're ever in the same room?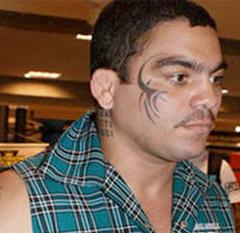 THE RIGHT TO BEAR ARM
What can you really say about a badass bear tattoo on a hand? Well, when War Machine saw it, he said "Wait… where did you find a shop that does cool tattoos…?" This bear tat belongs to a fellow by the name of Waachiim Spiritwolf who has fought for Strikeforce, Bellator, and a bunch of smaller promotions over the years, and it's definitely one of  the better MMA tattoos out there.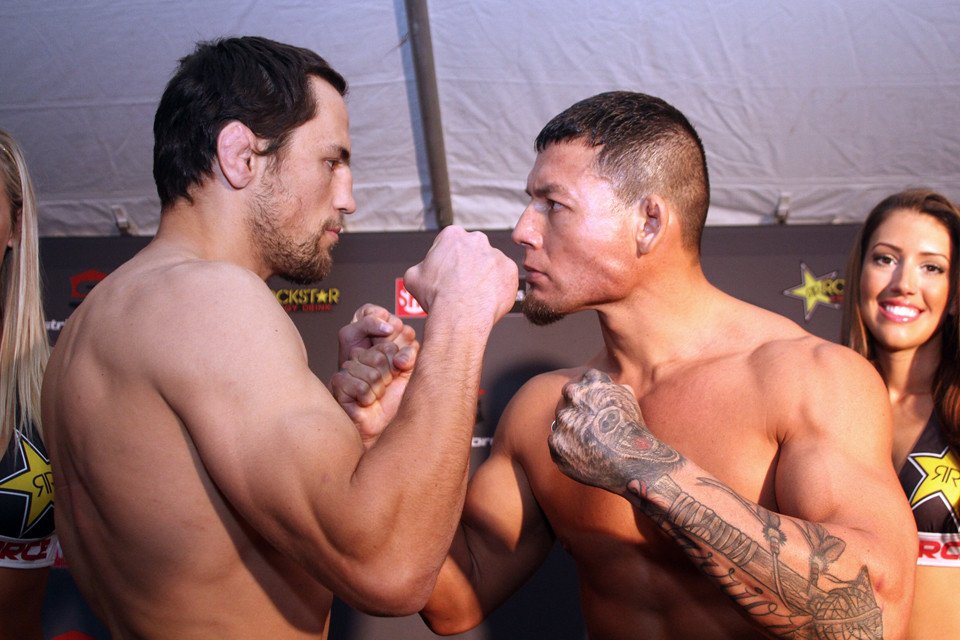 (Image via Strikeforce.com)
PORN MACHINE
Speaking of good decisions, which War Machine and porn-star girlfriend Christie Mack have a history of making, the most recent in a series of great ideas for this couple was to get… well… see for  yourself. Sidenote: War Machine has caused big controversy for allegedly beating his girlfriend, and from the video research I've done, Christy has a lot of practice taking shots to the chin. She might not be one of the hottest girls of MMA now that her and War Machine are through, but she still gets an honorable mention.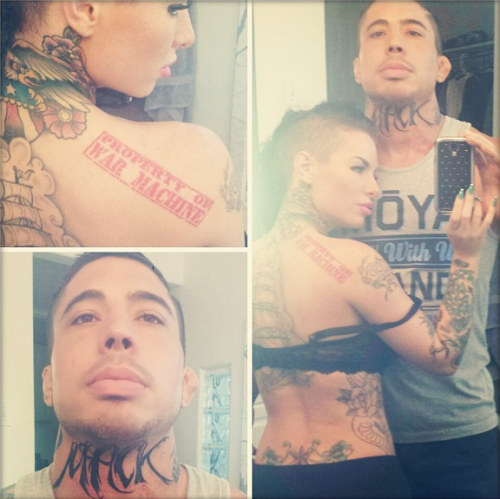 ROWSEY PATCH KIDS
This fan tattoo kind of looks like it's a tribute to Ronda Rousey and the Cabbage Patch Kids at the same time.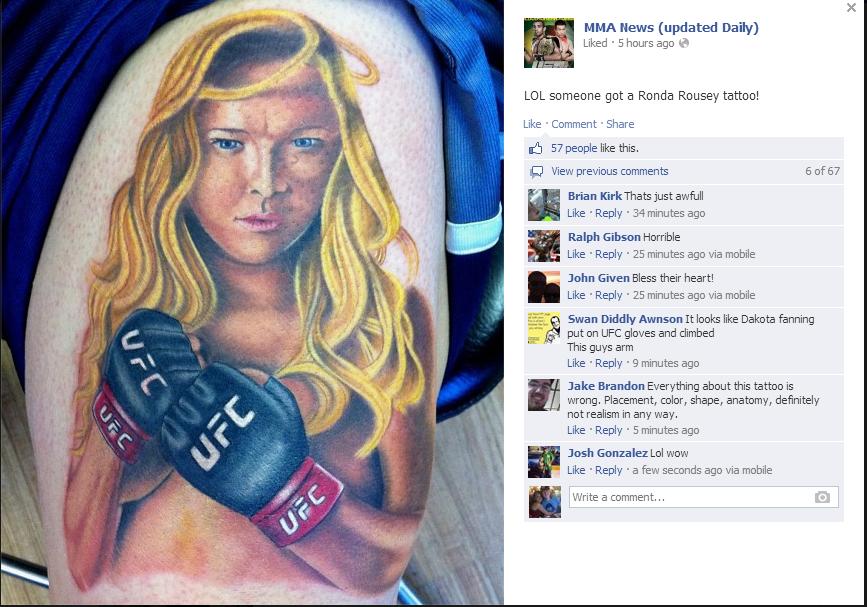 THE MR. COOL ICE OF MMA
The next spot belongs to Paulo Filho with a tattoo that he got after completing rehab. Yeah, after. It's a million dollar bill with a pitbull on it. This guy is literally covered in best/worst tattoos, check out the "Reward Hunter" on his chest. What does that even mean?!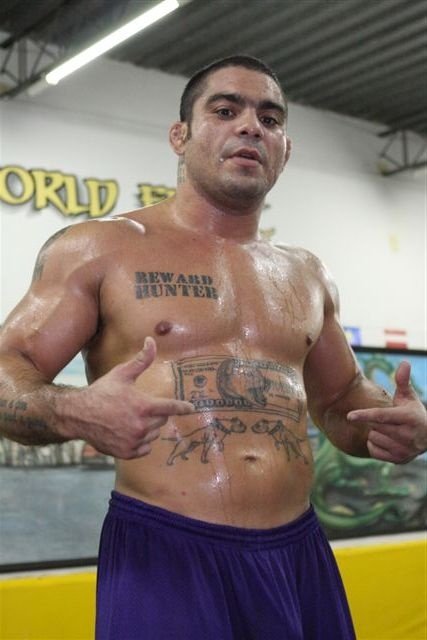 PAPYRUS ABACUS
Melvin Manhoef has a tattoo of a scroll where he records a new notch for each person he knocks out. There's a separate coloum for Muay Thai and for MMA, and thankfully no column for barroom brawls or domestic abuse like another certain someone on this list.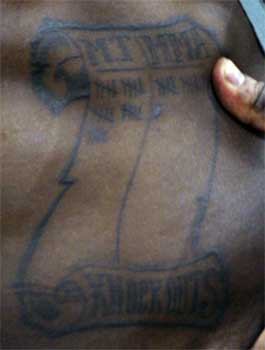 MMA FAN TATTOOS
What better way to prove you're a fan than getting the mug of a fighter etched into your flesh forever. Here are some MMA fans who are so hardcore that they could even put "JUST BLEED" Guy's dedicated to the fight game into question.
RONDA'S SKIN-HOOD
This one is very interesting. The tattoo itself isn't half bad, but it's a bit.. strange. In the original photo, as you can see, Ronda Rousey is wearing a hood. In the tattoo version, the hood is replaced by bare skin… leaving us to believe she's wearing some kind of strange skin-hood, whatever that is. If you didn't notice that, it's probably because you can't stop staring at her hand as it caresses what could easily be mistaken for the business-end of some ebony genitalia.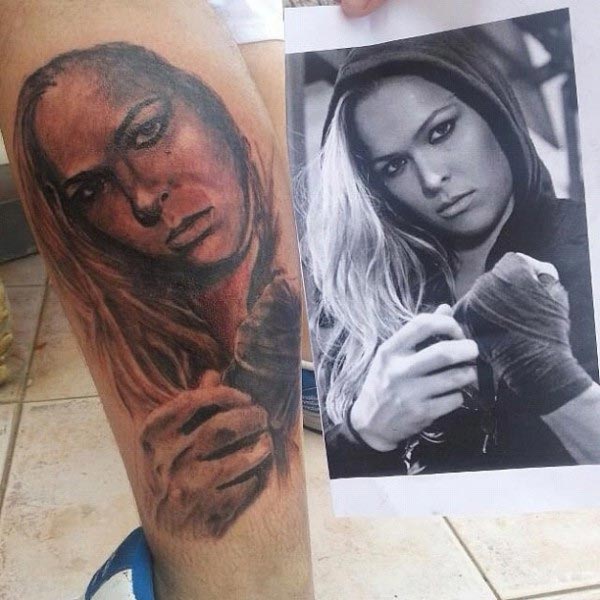 DUDE LOVES HIM SOME BONES
Whoever this guy is, he clearly loves Jon Jones. Like, a LOT. "Jon, will you be my valentine" a lot.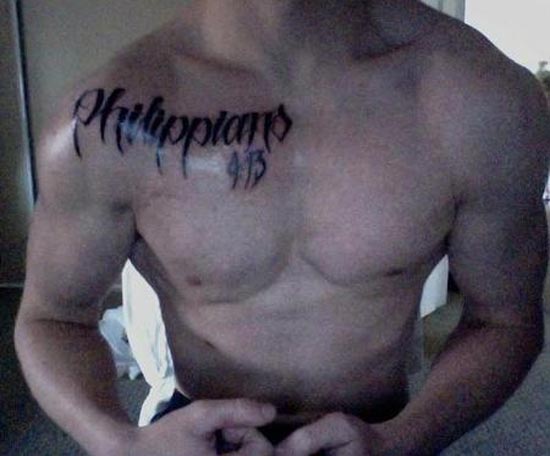 This Fedor Emelianenko tattoo on the next page is actually kind of cool…
Page 1 of 2: