Legend Ken Shamrock (who competed at the very first UFC event ever 22 years ago) is about to step back into the cage against Kimbo Slice. Obviously, no MMA fighters use steroids at all so it's safe to say that Ken Shamrock's ripped physique is completely natural.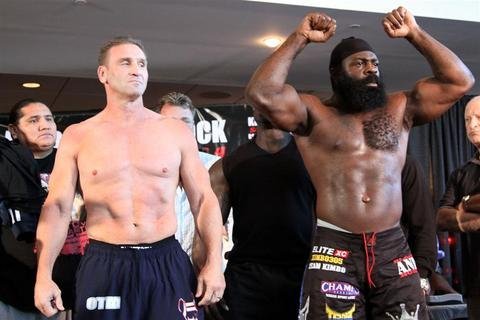 Freakshow Fight
On paper, this is a freakshow of a fight. Ken Shamrock is 2-7 in his last 9 fights, and hasn't competed since 2010. Kimbo's last MMA fight was also in 2010 where he lost to Matt Mitrione, but he's got a 7-0 amateur boxing record under his belt since then, with his most recent fight being in 2013. This is Bellator's way of saying, "Okay, maybe we don't have the best fighters in the world but… you're going to watch this card the same way that you watch a car accident."
Steroid Allegations 
Shortly after his retirement in 2010, Ken Shamrock openly admitted in an interview with Inside MMA that he used steroids throughout his career.
"They want home runs, baby" Shamrock said.
Now that he's getting back into fighting after a long layoff, it's only fair to give him the benefit of the doubt…
Take a look at this photo from earlier in his career, when he was in his 20s compared to Shamrock today at 51 years old.
Where to watch Ken Shamrock vs Kimbo Slice
You can catch this genius matchup on June 19th on Spike TV. It's actually a pretty good card by Bellator standards, some other fighters to watch out for include Patricio Freire, Daniel Straus, and Michael Chandler.
Page 1 of 1: