The WWE is pulling a quick turnaround following a generally terrible WrestleMania and has put together a pretty decent show for one of their C-level pay-per-views. So without further ado, let's jump right into the card:
Kalisto vs. Ryback for the United States Championship
Kalisto has been one of the worst singles champions in recent WWE history, and absolutely nothing has come of his four-month-long reign (counting his feud with Alberto Del Rio). Looking back on it, there was absolutely no reason to keep the belt on him at WrestleMania, and it makes sense that the WWE would mulligan that by putting the title on Ryback to cement him as one of the top heels in the company.
Dean Ambrose vs. Chris Jericho
Dean-o looked like an absolute bum at WrestleMania against Brock Lesnar (and losing to HHH not long before that…and Roman Reigns not long before that), but he's still one of the most popular guys on the roster. They'll build him up here in order to have John Cena or Randy Orton or whoever else tear him back down at Money in the Bank or SummerSlam.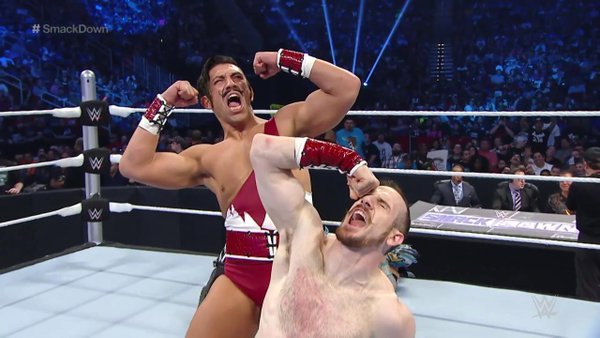 Enzo Amore and Colin Cassady vs. The Vaudevillains
Two of the most recent NXT call-ups will face off with a shot at the New Day's tag team titles on the line…and it's not looking good for Enzo and Cass. Rumor has it (and logical storytelling dictates) that they will either take a dirty loss to the Vaudevillains to get them some guaranteed heat, or they will get distracted or ran-in on by the Dudley Boyz to set up a feud with them.
Sami Zayn vs. Kevin Owens
Zayn and Owens have been on-again-off-again feuding for over a decade now, and the WWE apparently doesn't feel like building it up. This is one of the two matches on the card that is tough to pick, but the WWE needs more heels than they do faces right now, so expect Owens to go over on Sami, probably in controversial fashion.
Continue to the next page:
Page 1 of 2: