UFC 186 is another very solid card to follow up 185, knock on wood. The Rory MacDonald vs Hector Lombard fight has been pulled, and replaced with Demetrious Johnson vs Kyoji Horiguchi who are now headlining the card after TJ Dillashaw had to pull out due to a rib injury. There's chatter of a superfight between DJ and TJ which would be great, but Dillashaw's still got a lot of work to do which starts with recovering… Check out the new extended preview for UFC 186, streaming below: 
Official fight card
Flyweight
Demetrious Johnson (c)
vs.
Kyoji Horiguchi
Middleweight
Michael Bisping
vs.
C.B. Dollaway
Light Heavyweight
Fabio Maldonado
vs.
Steve Bossé
Catchweight (160 lbs)
John Makdessi
vs.
Shane Campbell
Bantamweight
Yves Jabouin
vs.
Thomas Almeida
Preliminary Card (Fox Sports 1)
Welterweight
Patrick Côté
vs.
Joe Riggs
Women's Bantamweight
Alexis Davis
vs.
Sarah Kaufman
Lightweight
Chad Laprise
vs.
Bryan Barberena
Lightweight
Olivier Aubin-Mercier
vs.
David Michaud
Preliminary Card (UFC Fight Pass)
Welterweight
Nordine Taleb
vs.
Chris Clements
Women's Strawweight
Jessica Rakoczy
vs.
Valérie Létourneau
Women's Strawweight
Aisling Daly
vs.
Randa Markos
Update: Rampage is out due to contract disputes with Bellator MMA.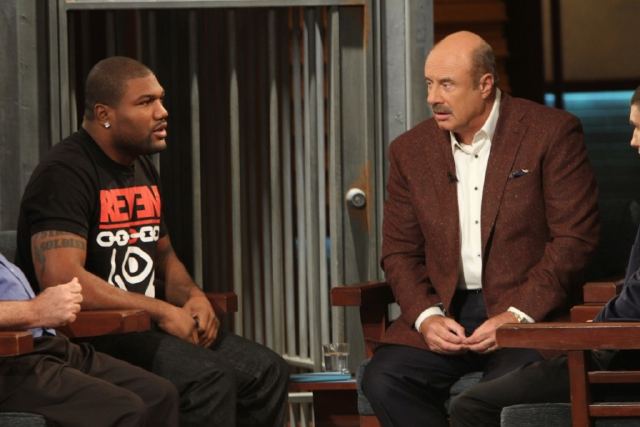 You'll want to grab yourself a UFC 186 live stream to witness the return of Rampage Jackson, live. He's taking on Fábio Maldonado which is a perfect match-up for both of these guys (and the fans) since they'll both be willing to stand and trade. This will probably be more of a boxing match than an MMA fight.
Michael Bisping and CB Dollaway will be an interesting fight. Both guys are coming off of losses, and neither wants to drop two in a row. It's harder to get excited about a fight when they've both lost, but this should be a good one either way.
Since this card is taking place in Montreal, there are also a few familiar faces from the TUF Canada vs Australia season including Patrick Cote who coached that season, Olivier Aubin-Mercier, Nordine Talib and TUF winner Chad Laprise. Randa Markos has also been added to the card. Knock on wood let's hope there aren't any more changes to this card. DJ doing what DJ does best and Rampage coming back to the UFC (Update: not anymore) alone makes this a compelling card, albeit not quite as stacked the UFC 185. Aside from the headlining fights, there aren't really any fights with belt-implications, no top contenders squaring off, but it'll be a fun event none the less.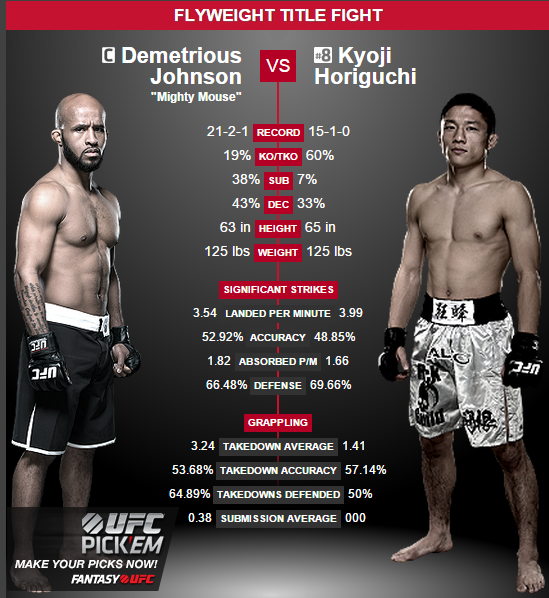 Mighty Mouse is one of the lesser-known champions in the UFC, but also one of the most talented, which in turn makes him one of the most underrated fighters in martial arts.
Check out the main event fighters in past performances…
Demetrious Johnson vs. Chris Cariaso full fight

Kyoji Horiguchi vs. Jon Delos Reyes full fight
Where are you going to be watching UFC 186 from?
Page 1 of 1: