There's a theory that before Conor lost to Nate, the plan was to set up a fight for McGregor vs GSP for GSP's huge comeback. GSP was even in the audience that night, after being out of the spotlight for quite some time, but Nate won and that put a stick in the wheel for the time being.
Still, there are continued rumblings about a possible match up between GSP and Conor McGregor, even if they're many weight classes apart these days. GSP is moving up to fight Bisping, and Conor's been fighting anywhere between 145 and 170, but it's fairly safe to assume he won't be making the brutal cut down to 145 anymore, and would probabally be happy to meet GSP at 170. Do you think GSP could make it down to 155 if he leaned up a bit?
Olivier Aubin-Mercier, a Canadian fighter who came in 2nd in TUF, and here's what he had to say about Conor fighting GSP:
"[Georges St-Pierre] didn't talk to me [about fighting Conor McGregor]. I didn't even know that Firas [Zahabi] had talked about it. I thought I was the first one to think about it, I'm kind of disappointed. I think Conor is a smart fight for anybody in any division right now. Yeah, exactly, [a fight with Conor McGregor would be the biggest fight to make]. I think the promotion of the [a fight with Robert Whittaker] would not be like Bisping against him or Conor against him since both GSP and Whittaker are humble guys. Unfortunately, fans don't really like this." — Olivier Aubin-Mercier on The TSN MMA Show. (via BJPenn.com)
Firas Zahabi, one of the best coaches in the game and the guy in charge of Tristar Gym in Montreal, also has some thoughts on the potential GSP vs McGregor superfight (And yes, it's a superfight.)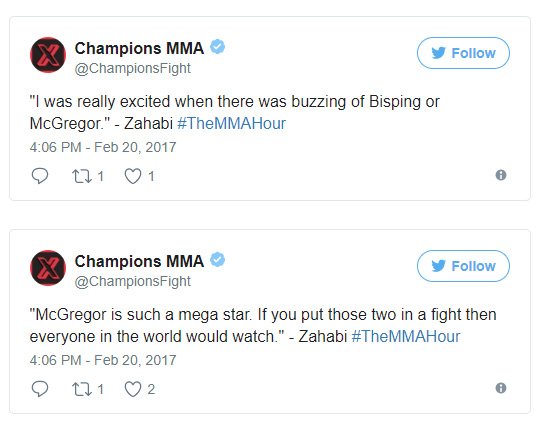 What do you think? GSP has made it clear that he wants big fights, and it's hard to imagine a bigger fight than GSP vs McGregor, especially if GSP is successful in taking down Bisping and winning the belt. You'd have the 155 champ taking on the 185 champ, although it's hard to imagine either belt would be on the line, unless GSP could make 155. Do you think Conor would ever consider moving up to 185 if GSP was the champion in that division, and can you imagine how pissed off Yoel and everyone else waiting for a title shot would be?
Page 1 of 1: