Facebook is a terrible place, isn't it? What good has ever come of it, outside it being the number-one platform to keep you up-to-date with all things FightState.com, of course!
For the most part, though, it's pictures of children you don't care about. Random thoughts of people you don't care about. The occasional message from somebody you don't care about. On and on and on, it's just a bunch of stuff you don't care about. There's one UFC fighter, though, that got a kick straight to the ego from the website's new "anniversary of event" algorithm that randomly reminds you that "X years ago, you posted this."
That fighter is flyweight Louis Smolka and on Monday, he got a reminder from Facebook that two years ago, he lost to Chris Cariaso at UFC Fight Night 40.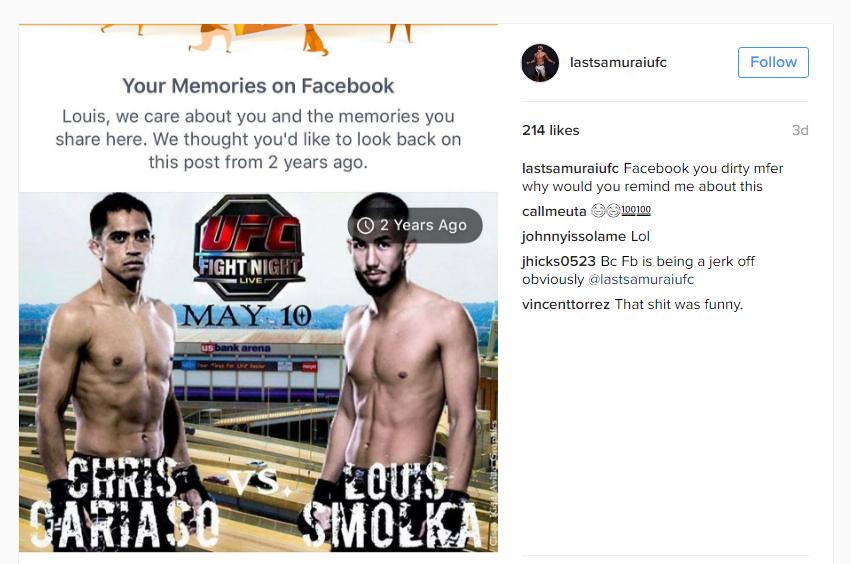 Funny stuff, though probably awkward for him.
Smolka's fight with Cariaso at Fight Night 40 wasn't actually a bad one, it's worth noting. It was Cariaso's sophomore fight in the UFC against one of the most battle hardened veterans in his division. The fight wasn't especially compelling, but Smolka nearly earned the win, coming up just shy in a split judges' decision.
In the time since that fight, however, Smolka has developed into one of the best fighters in the flyweight division, appearing on many top-10 ballots. He is currently No. 12 in the UFC's official rankings.
This is still a pretty big knock on Facebook's new "share your memories" gimmick. While it's probably unreasonable to expect a computer to decipher which memories people actually want to be reminded of, I'm now worrying about it reminding me of my ex or bringing back a post about my dog dying.
Page 1 of 1: