We're finally getting it right from the horse's mouth. Mayweather. Pacquiao. It's ON!
Moments ago, Floyd Mayweather confirmed via his App, Shots and Twitter, that the fight is deal is complete.
Also ESPN.com is also reporting that the fight is finally signed, sealed, and delivered.
"
The showdown is a lock to be the richest in boxing history and will, barring a draw, settle the issue that has been debated for years: Who is the No. 1 fighter in boxing and who is the king of their era?
Mayweather made the announcement on Friday afternoon on a social media platform called Shots, of which he is an investor."
We've been bringing you all of the latest insider rumors for months about the biggest boxing match of this century, and even when there's been positive news it has been difficult to get too excited. Well, the time is finally here… you can now get excited because FMJ has officially announced  that all the i's are dotted and all the t's are crossed and Floyd Mayweather versus Manny Pacquiao is completely, entirely, 100% confirmed.
The fight is slated to take place on May 2nd, 2015 at the MGM Grand Garden Arena in Las Vegas.

The two fighters and their camps have agreed to 3 fights in total, with the next one taking place in November. Rematch clauses aren't uncommon, but setting up 3 fights like this is huge and shows that when it rains, it pours. These guys are finally ready to cash in and to give the fans what they've been demanding for years.
And now, the tale of the tape…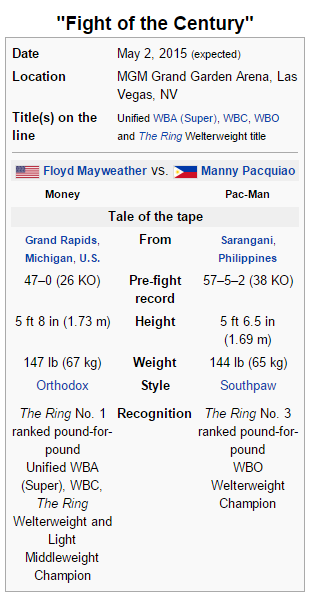 Amir Khan was hoping to fight Pacman or Floyd, but as a fan of the sport he's okay with putting those plans on hold for now…
"I think I probably have missed that chance of fighting Floyd or Manny. I was speaking to both parties. It was going to happen. But because I'm a huge boxing fan myself I can't really argue. It's a fight that everyone has been waiting for. I want to see it myself as well."
Page 1 of 1: