This isn't the first time that Jon Jones has adapted to his opponent's style and used it to dominate them. It's pretty much his MO at this point. Neutralizing Sonnen's wrestling is one thing, but going 5 rounds and getting the better of Daniel Cormier at his own game is a whole other beast. Jones won a unanimous decision over Cormier with the judges scorecards saying 49-46 across the board.
"I watched him fight so much that I actually absorbed who he is. I absorbed grinding… I watch my opponents so much that I absorb their talents, their gifts…" – Jon Jones
In other words, Jon Jones is like the Kirby of MMA.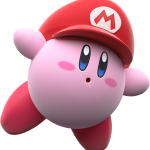 Jones on whether or not he's the GOAT…
"Anderson has won so many world titles and you can't discredit what he's been able to do. At the same time, with that being said, with all due respect… I believe that I've had the toughest resume in the history of this sport. I've fought so many amazing athletes so many times that people thought I was going to lose. I will give Anderson and Georges being above me, I think that attitude will help keep me honest. It will keep me determined and driven. I will keep that as my psychology until it can't be argued anymore. 2015 will be my best year." 
Jones on moving to heavyweight and fighting Cain…
"To be honest I will fight Cain Velasquez in a heartbeat. I really would. I would love to fight A.K.A's best athletes, I can defeat 'em all. I believe our team is the best in the world. With that being said, my maturity has allowed me to make weight a lot easier this camp… 3 weeks outside the camp I started having to eat more and forcing myself to eat more to keep my weight up. I was losing weight too fast. That's a testament to hard work. Focus. Discipline. Fighting at heavyweight would be surely to entertain the fans and it would have to be against the perfect opponent." 
None the less, Gus isn't too impressed…

Page 1 of 1: