UFC 203 was about two things; CM Punk's UFC debut, and Stipe Miocic's hometown showdown with Alistair Overeem. Both fights delivered, in their own unique ways. Here's what you missed at UFC 203 last night.
Stipe Miocic Retains in Special Moment
The UFC hasn't produced many hometown heroes. Part of that is because fighters move frequently to train at top gyms in either Florida or California, which has fighters getting disconnected from their hometowns. Part of it is because the UFC has reduced its roster into 500 anonymous bodies to be destroyed for our entertainment.
Stipe Miocic became a hero in Cleveland when he won the UFC title at UFC 198 during the Cavalier's run to the NBA Championship, though, and the UFC decided to make the most of it by putting him at the center of the UFC's debut in Cleveland. He did his city proud, too, by knocking out Alistair Overeem after four minutes of nail-biting action. Notes:
Great win for Miocic in every possible way. He got clipped by Overeem, which isn't shocking, but he recovered well and showed off his good striking and underrated wrestling. And boy, did the crowd pop for him.
Overeem said that Miocic tapped during a guillotine choke attempt and Rogan had it brought up on the big screen. Miocic did not tap and it was SUPER awkward to see that happen to Reem.
Fabricio Werdum Goes 2-0 on Travis Browne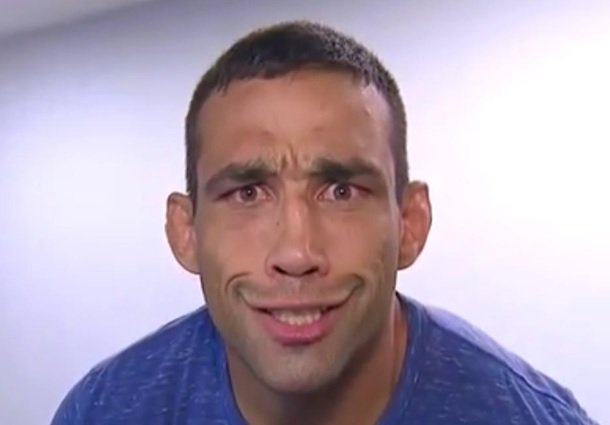 No matter how much cheating Travis Browne does, both in the cage and on his wife, he just can't win! Well, except for sleeping next to Ronda Rousey each night.
Still, he cheated his ass off at UFC 203 against old rival Fabricio Werdum for naught. He eye-poked, he called for time-outs, he grabbed the fence, and he still lost via unanimous decision! Notes:
Technically, Browne should have lost via TKO in the first round. He either broke or jammed his finger during an exchange and called for a time out to reset it. That should have ended the fight on the spot…but the ref was terrible.
Werdum won decisively but BOY this was boring. Werdum came out with a flying kick to start the fight, and basically coasted from there, but Browne just had nothing to offer.
After the fight, Werdum and Browne's coach, Edmond Tarverdyan, exchanged words until Werdum kicked him! How crazy is that!? Werdum may or may not get fined for it.
CM Punk Gets Thrashed by Mickey Gall
CM Punk moved forward. He got taken down. Gall got mount. Ground and pound. Punk gave up his back. RNC. Tap. That was all there was to it! Notes:
Pretty much as bad as it could have gone for Punk. The official stat line reads 0 strikes landed, 0 takedowns, 0 submission attempts.
Punk got a lot of support from the pro wrestling world after. Dana White, though? Not so much, as the UFC Prez said that Punk would probably have to look elsewhere for fights after this performance.
Gall called out Sage Northcutt after the fight and Dana suggested the company is looking to make the fight. That could be a fun one!
The Best of the Rest
Jessica Andrade looked phenomenal, out-striking and out-wrestling Joanne Calderwood before tapping her out in the first round. She could beat Joanna Jedrzejczyk. No exaggeration.
Jessica Eye got a hero's welcome in Cleveland. Her fight didn't go as well as Stipe's, though, as she lost her bout to Ronda Rousey's old rival Bethe Correia by controversial split decision.
Urijah Faber may be done in MMA. He lost a rough one to a complete nobody in Jimmie Rivera, mounting almost no offense. Sad ending to his career, if so.
Page 1 of 1: