Update: Here's a walk down memory lane, when the unstoppable Ronda Rousey was tearing up the women's division and Ronda Rousey's record was still perfect. Things have changed since then, and Ronda has recently announced her engagement to fellow-fighter Travis Browne.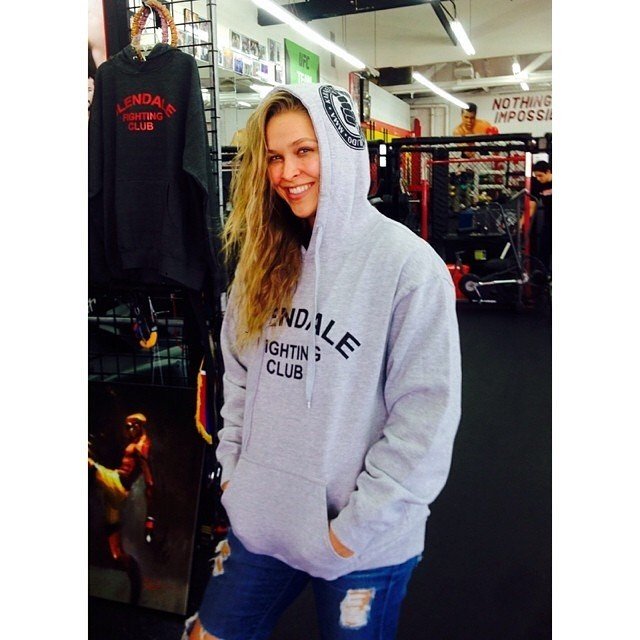 It's unclear whether Ronda will end up fighting again or not. She's still young, it's hard to imagine they don't try to put together another fight for her down the road if she gets the itch again, but right now it seems like per priority is family.
MMA Records
Ronda's amateur MMA record was 3-0.
Ronda rousey's UFC record is 12-2, after dropping from 12-0 with her first two career losses coming one after the other.
Ronda Rousey submitted Cat Zingano in a record-breaking 14 seconds at UFC 184, and finished Alexis Davis in 16 seconds before that. Eight out of Ronda's 11 MMA wins have come in less than a minute, but who's got time for that?
Here are gifs from Ronda's 5 fastest wins. It's been said for years but one of the craziest things about Ronda's armbar is the fact that everyone's expecting it, and everyone in the division has been ferociously training armbar defense for years now, but it still doesn't matter – she just can't be stopped.
She's also won a lot of awards..
2012 Female Fighter of the Year
2013 Female Fighter of the Year
2014 Female Fighter of the Year
5. Julia Budd via armbar in 0:39
4. Ediane Gomes via armbar in 0:25
3. Sarah D'Alelio via armbar in 0:25
2. Alexis Davis via KO in 0:16
1. Cat Zingano via armbar in 0:14
If case you weren't keeping track, that's just shy of two minutes total for five victories. Is there a woman on earth who'll be able to pose a threat to Ronda? Cyborg just posted a picture showing that she currently weights 175 pounds, and the UFC has made it clear that if she wants to fight Ronda she's got to make it to 135 which won't be an easy task.
Page 1 of 1: