A few pieces of interesting news came out of Bellator today. Let's start with the good news…
Scott Coker of Bellator has said that he's interested in bringing Mike Goldberg on board to fill in for color commentator in the occasional event, would would further represent the exodus taking place over at the UFC. Goldberg is a familiar face, and would definitely ease the transition for some hardcore UFC fans who never watch Bellator, but it might be more of an "F U" to the UFC than anything.
The bigger Bellator news is that Rory MacDonald has a fight lined up against Paul Daley now. This is a dangerous fight for Rory, they're definitely not giving him an easy welcome to the promotion. There were rumors that Daley would be fighting Michael Venom Page, but chances are MVP still needs some time to get to that level, but we'll never know until he's tested against a seasoned vet (who isn't miles past their prime.)
So that's all good, now onto the bad news…
Accusations of fight fixing have been running rampant after some of Bellator's recent events, most recently when Chael Sonnen was choked out by Tito Ortiz. For the record, it didn't look fixed to us. Allegations also came out after Shamrock vs Kimbo, and a few of their other fights featuring older legends, but it's most likely more a matter of just old guys fighting… Of course it's going to look weird and different when you have older guys, full of injuries, way past their prime headlining events. That doesn't mean the fights are fixed.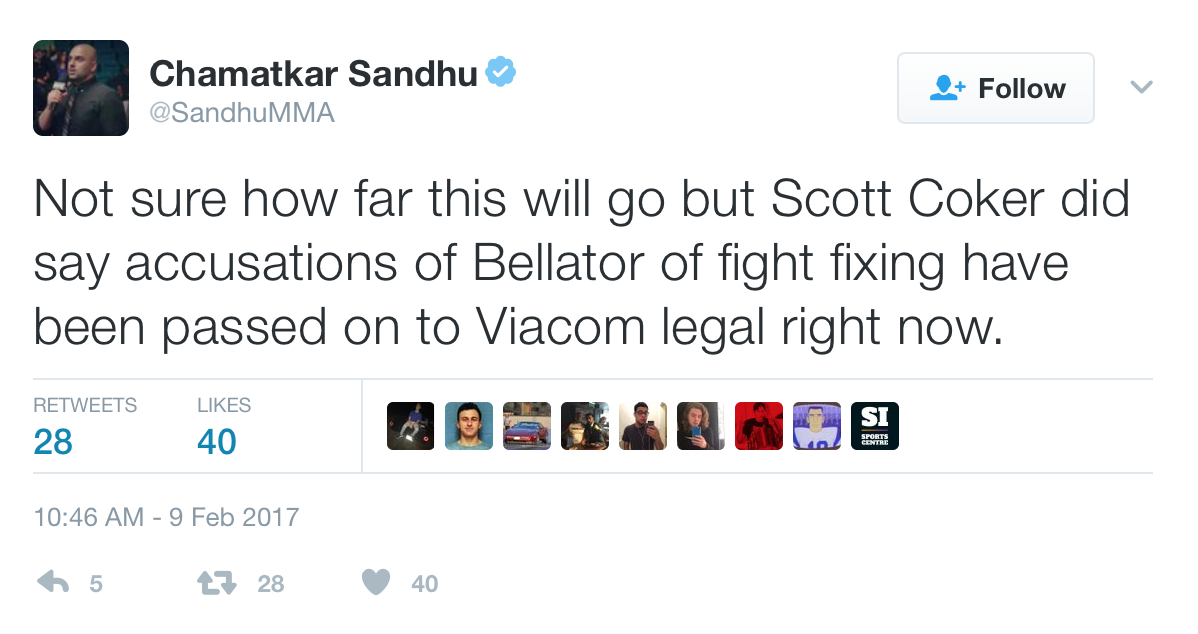 This tweet says that Viacom (The multi-billion dollar company that owns Bellator and a ton of other huge media properties)'s law team has been made aware of these accusations. We're not sure if that means that they'll be going after the people making the accusations, or trying to disprove them, or whatever, but it's still an interesting development and acknowledgement.
Page 1 of 1: