Ronda Rousey recent loss to Amanda Nunes left a lot of fabric to cut after UFC 205, seem like almost every one been taking a go at Ronda now. She has to blame the outrageous way she lost to Amanda, which has made many people take the former champ in a mocking tone.
Michael Page of Bellator performed a small dance mocking of Rousey on Instagram, with a choreography that simulated the reception of blows Nunes laid down on Rousey. This upset Travis Browne (Rousey's partner), who left a message to Page on twitter.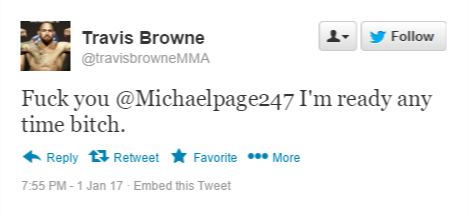 "Fuck you @ Michaelpage247, I'm ready anytime, bitch."
Seem from this tweet that Travis was letting Micheal and the rest of us know that he ready to stand by Rousey in this really low time.
After launching the tweet and generating scattered opinions, the full-fighter decided to eliminate it.
Michael Page again mocked the situation once again, now emphasizing Rousey's coach, Edmond Tarverdyan. Page published a tweet saying: "when you are trained by friends", accompanied by a video where they beat Ronda and Tarverdyan's voice sounds during the fight against Nunes.
When you get coached by your………….
"FRIENDS"??
Great Advise ?#headmovement#pivot#shutupshutupshutup@amanda_leoa pic.twitter.com/ibrrTjo93J

— Michael Venom Page (@Michaelpage247) January 3, 2017
We are sure there is going to be more of Rousey to come. As Her mother and Dana White weighed in on her future in UFC. It true that Ronda has lost the last two fights. This maybe a shock to some who were really thinking her bout with Nunes was going to be a come back from the bruising defeat to Holly Holm. As history has now shown us it did not quite work out for Ronda. Nonetheless this is a new year and hope that Ronda and put this losing streak behind her and return to the champion seat in the near future.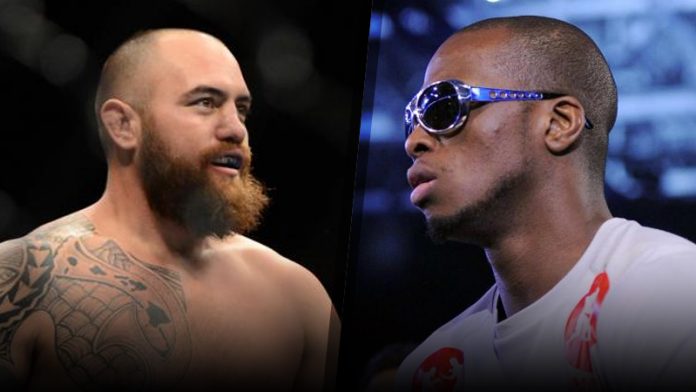 As for Travis Browne he maybe doing what any loving man would do but taking on Michael Page in a twitter storm might not be the best way to go about it, maybe as was suggested he should help her find a new coach.
Just incase you missed it Click Here to see the tweet and the dance that has Travis so pissed.
Page 1 of 1: