Here's a look at the 10 best MMA workouts, and we promise to keep the Roy Nelson jokes to a minimum. Want to get in better shape? Want to learn some core fundamentals of MMA? Are you bored with other workout dvds? Here's the criteria for a program to make it on this list…
The workouts need to be tough and effective.
They need some type of connection to martial arts.
They don't need to be super popular, but they need to be proven and have good reviews.
They don't necessarily have to teach you any real mma moves or techniques, but some will.

1. UFC Fit
Quickfacts: The UFC's official fitness program.
This program is put together and hosted by none other than mma nutrition guru and Roy Nelson's worst nightmare Mike Dolce. If you can't afford to have Dolce in your home making your smoothies every morning, this is the next best thing. A big part of any workout series is whether or not you like the host of it. If Dolce isn't your cup of tea, there are a lot of similar workouts to chose from.

2. RushFit
Quckfacts: Probably the first thing that comes to mind when you think "mma workouts".
Rushfit by Georges St. Pierre is an 8-week program which includes a workout guide, a nutrition guide and training plans. All you need equipment are some dumbbells, around 25lbs should do the trick. The focus is on endurance rather than weight. The program comes with 6 dvds and it's around $100, so the same as you would pay for P90X or Insanity except neither of those is hosted by Captain Canada.

3. Touchfit: GSP
Quickfacts: It's not just a mobile version of Rushfit, it brings new things to the table.
Since "retirement" it seems GSP has been a busy guy, it's been a few years since Rushfit came out and he's back in the game with Touchfit. This is a mobile training app that'll allow you to do your workouts anywhere, with video demonstrations right on your mobile device. The real beauty here lies in the data, Touchfit keeps track of everything, even your recovery time to make sure that you are avoiding injuries and not overtraining. There are over 500 different video exercises to keep things fresh, yet surprisingly there aren't any lessons on point fighting or laying on top of your opponents. The app is free to download, and then $10 for a yearly subscription, or $2 for a week. You don't have to be making GSP to get this MMA workout.

4. DDP Yoga
Quickfacts: If you need that extra push of motivation, DDP Yoga is great for all levels of fitness, especially those who are just starting out.
You've probably seen the inspirational video of a guy named Arthur who wasn't supposed to ever be able to walk again, but after finding DDP Yoga he's able to run around and do handstands. Granted, Diamond Dallas Page was a pro wrestler and not an mma fighter like some of the faces of other programs we're featuring, but a lot of pro fighters practice Yoga. When it comes down to it, a little bit of extra mental toughness and flexibility can go a long way. If getting into shape and losing weight are your primary goals, DDP yoga is worth checking out.

5. Shadow-Jitsu
Quickfacts: Body-weight training, great for people who travel.
Former MMA fighter Joey Alvarado hosts this is a workout dvd which consists of MMA-inspired drills and shadow boxing along with body weight training exercises. It's not as in-depth and complete as some of the systems we're looking at (Such as Rushfit, TapoutXT2, etc) but Shadow-Jitsu is still an interesting workout. It's a tough DVD to get through, and the trainer isn't there to baby you, so if you aren't self-motivated then this might not be your best bet. If you aren't in pretty decent condition already you'll have to skip some of this stuff, but don't be a pussy – challenge yourself!

6. Les Mills Combat Workout
Quickfacts: Combines 6 different martial arts for an intense cardio workout.
This program is made by the same people who put together Insanity and P90X. If you like those ones, you'll like the way this one adds MMA into the mix. If you aren't of Insanity or P90X, take a pass on Les Mills unless you think the mma elements will be enough to sway you.
 
7. Tapout XT2
Quickfacts: It's in the same ballpark as Rushfit, UFC Fit, P90x, etc…
The Tapout XT and XT2 workouts feature a lot of your favorite MMA fighters if your favorite MMA fighters are Jon Jones, Chael Sonnen, Donald Cerrone and Clay Guida.

8. Jay Glazer's Perfect Punch
This is an MMA workout and training course that will have you throwing excellent punches with surgical accuracy. Hosted by Jay Glazer, it also features UFC veterans like Kevin Randlemen and Dan Henderson. You can also get a resistance band

9. Duke Roufus Muay Thai Full Contact Kickboxing
Quickfacts: Check out Roufusport on our list of best MMA Gyms.
It's an oldie but a goodie. It looks like it was shot in the same basement as a hostage video, but if you can't make it down to Roufusport (One of our top 10 MMA gyms), then Duke's videos are a decent way to learn some basics of kickboxing while working up a great sweat.

10. Extreme Kettlebell Cardio Workout
Quickfacts: Great workout for the whole body, build functional strength.
The MMA connection to this kettlebell training DVD from Keith Weber is the fact that's Joe Rogan's kb workout of choice. Even if you're in pretty good shape, start with a 25-35 pounds and you'll still get absolutely wrecked. Kettlebell training is great for functional strength, and if you aren't convinced then here's a picture of Fedor.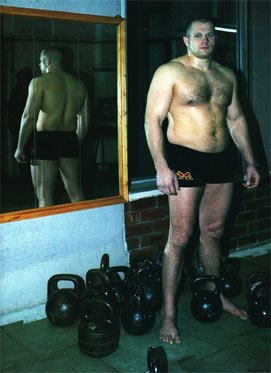 MMA Workout Honorable Mentions
Not everything can fit in a top 10, here are some other notable workouts.
Body Action System by Bas Rutten
The Body Action System (B.A.S – get it?) is Bas Rutten's MMA workout program and equipment . A big problem with a lot of workouts is they become stale, but Bas keeps things interesting and fun. Admittedly, this is one of those crazy late-night infomercial things that you order when you're drunk. So, if you're drunk right now, definitely buy this. As for for actual B.A.S. itself, it's easier to just take a look at the picture below.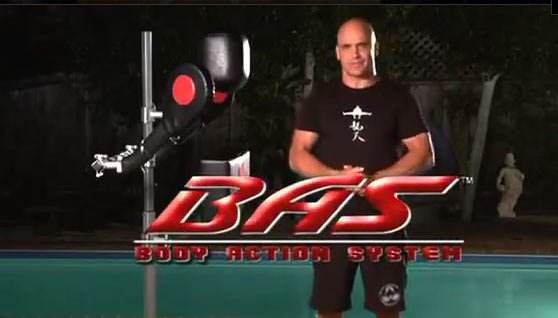 Also make sure you check out Bas Rutten' Lethal Street Fighting Self Defense System which earns a special mention on our list. It's not a workout dvd, but it's probably one of the funniest and most useful videos if you plan on getting into a bar fight. Here's a clip…
Page 1 of 1: