Chael Sonnen is like an olive, you love him or you hate him. Either way, there's no denying that the American Gangster has a way with words. You can say that he talks his way into big fights, but not a lot of fighters have been ranked in the top 10 for two different weight classes simultaneously after beating some of the top names in the game, so there's no denying that he can also walk the walk. Despite his accomplishments inside the octagon, we're going to focus on the talk today.
Sonnen has been relatively quiet leading up to his fight against Rashad Evans next month. Both men have shown a mutual admiration and respect for one another in recent interviews, but it's unlikely we won't hear some chirping back and forth as the big night gets closer. Until then, here are some classic Chael Sonnen quotes to tide you over.
On Fox Sports…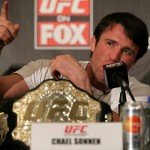 "I think everybody up here is grateful to be on fox, they'd probably say "Fox, Thanks." Everybody but me. I would say "Fox, you're welcome. You've been telling people for years you've got the American Idol and now you finally do."
Context: This is what Chael had to say at a press conference before a fight on FOX 2. Sonnen was originally slated to fight Munoz, but went on to defeat Michael Bisping by unanimous decision after Munoz had to drop out of the fight due to an injury.
On Anderson Silva…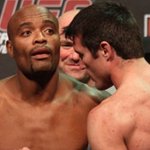 "Anderson Silva, you absolutely suck."
Context:Chael has had a lot to say about Anderson over the years, but this pretty much sums it all up. This was after his initial loss to Silva, during his post-fight interview after submitting Brian Stann at UFC 136.
On Politics & Government…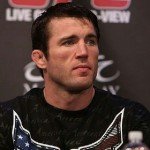 "I actually held public office and I left the only way a person should… In handcuffs."
Context:Sonnen ran unopposed as the Republican candidate for the Oregon House of Representatives, which was very controversial and caused a stir in local media due to comments he had made about Brazil, which we'll get to in a moment. He dropped out of the race due to an incident in 2006 involving real estate and money laundering.
On Black House…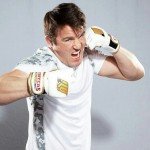 "As a public service, I will burn Blackhouse down."
Context:Chael has had some choice words about several fighters to come out of the Black House gym, including Anderson Silva, the NogueiraBrothers and Lyoto Machida.
On Brazil…
"That's an accident, and I do feel bad about that and if I could somehow set that straight on your show, let me. You have to understand… If I say something in a very private manner that isn't intended for a certain audience, come on you can't hold that against me. I picked my medium very carefully when I talked about Brazil. I went to the internet and if I had the foggiest idea that they had computers in Brazil, I wouldn't have done that. I really didn't know."
Context: This was Chael's tongue-in-cheek response when asked about how he is received in Brazil after making countless inflammatory comments about the country.
On The Nogueira Brothers…
"I was in Las Vegas when the Nogueira brothers first touched down in America. There was a bus… this is a true story… There was a bus that pulled up to a red light and Little Nog tried to feed it a carrot while Big Nog was petting it. He thought it was a horse. This really happened. Do you believe me that that really happened? He tried to feed a bus a carrot, and now you're trying to tell me that country has computers?"
Context:Chael has brought this story up a lot, insisting that it actually happened, which is definitely some of his more hilarious shtick. Now, do you really believe that they tried to pet a bus and feed it a carrot? To this day, Chael will insist that it happened.
On Threatening Somebody…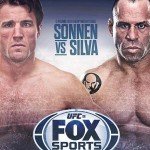 "You are an immigrant from Brazil. I am a gangster from America. Are you sure you want to play that game with me? Listen Wandelai, I will do a home invasion on you. I will cut the power to your house so the next thing you hear will be me climbing up your stairs with a pair of night vision goggles I bought in the back of Soldier of Fortune magazine. I'll pick the lock to the master bedroom, take a picture of you in bed with the Nogueira brothers practicing your "Jiu-Jitsu". I'll take said photograph, post it at www.DorksFromBrazil.com. Password: not required, Username: not required. That, Wandelei, is how you threaten somebody. Dummy."
Context:Sonnen's response after hearing from Ariel Helwani that in a recent interview, Wandeilai had said that when he and Sonnen meet in the octagon, "I will kill you, and kill you fast." The point goes to Sonnen on this one…
On Leg Locks…
"On the streets of West Lynn, Orgeon if you lay on your back with your legs wrapped around a man's head for 8 seconds that does not make you a winner. That makes… not a winner."
Context:Chael definitely wanted to say something else but caught himself at the last moment to simply say "…not a winner." This is in reference to his loss against Anderson Silva during their first fight, where Sonnen essentially dominated Anderson for 5 rounds but at the very last moment the Champ managed to catch Sonnen in a submission, hold on to his belt, and add fuel to one of the UFC's more entertaining rivalries.
On Testosterone Levels…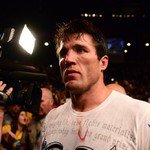 "My phone rings, they call me up and they say "Chael, your testosterone level was too high."
I said "Well, how high was it?"
They said ".7"
I said "What's normal?"
They said ".6"
One tenth? You're telling me I'm one tenth higher than the average man? Re-test that. You must have caught me on a low day."
Context: There's been a lot of controversy surrounding Chael Sonnen's use of testosterone replacement therapy, despite it being recommended by his Doctor to treat a medical condition and within the rules and regulations.
On Strategy…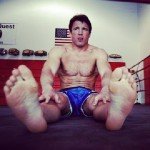 "I hear guys talk about game plans and foot work and strategy with their coaches and their gold teeth and their eight grade educations and I don't care about any of that."
Context: This quote is from the same press conference as the first quote on this list. When asked about his plan for the fight, Sonnen answered in true American Gangster fashion.
Bonus – An inspirational moment with Chael P. Sonnen
"When doubt sets in, you've got two roads. You can take either road. You can go to the left or you can go to the right. They'll tell you failure is not an option. That is ridiculous. Failure is always an option. Failure is the most readily available option at all times but it's a choice. You can choose to fail or you can choose to succeed."
Context:Sonnen set the antics aside when it was his turn to coach The Ultimate Fighter opposite Jon Jones.
Sound off and have your say now
What do you think of ChaelSonnen? Overrated hype machine, or underrated perennial contender? Who is your pick when he squares off against Rashad next month? Don't forget to leave a comment below and share some of your favorite Sonnen quotes that we left out!
Page 1 of 1: