In combat sports there is discipline and art but we all love to see a knockout to hear the crunching sound of bones connecting weather it is a knee, elbow or fist. These are some the best well placed and timely knockouts in combat sports from UFC, Mauy Thi and Boxing but a good knockout can mean a difference between victory or defeat.
Here is a list of the top 10 best knockouts in sports.
10. Roberto Duran – Davey Moore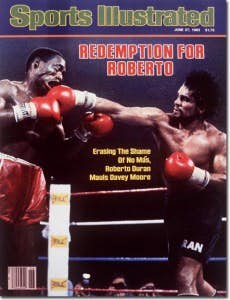 It was supposed to be a mismatch. Davey Moore was the young junior middleweight champion who had all the goods…speed, power and reach. Roberto Duran was already considered a legend but he was fading fast after his embarrassing "No Mas" defeat to Sugar Ray Leonard. He then lost to a couple of unknown fighters before the promoter Bob Arum gave him another chance. It was a chance Duran did not waste. He overcame Moore's physical advantages by using his experience to good use. He hammered Moore's eyes shut. Duran proved once again why he is called the "Hands of Stone."
9. Manny Pacquiao – Ricky Hatton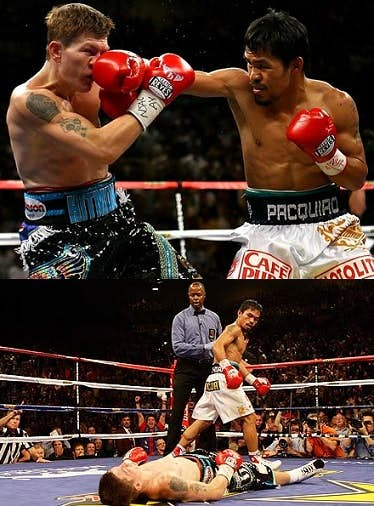 Manny Pacquiao was on his way to becoming a boxing legend after an easy victory over the much bigger Oscar de la Hoya. He took on Ricky Hatton, the pride of Manchester, for the latter's junior welterweight crown. It was billed as the "Battle of East and West."  Pacquiao gave Hatton a taste of things to come early in the fight when he knocked him down twice in the first round. In the second round, Pacquiao unleashed a left hook that landed squarely on Hatton's chin, knocking out the Briton cold. The referee did not even bother to start counting.
8. Mike Tyson – Michael Spinks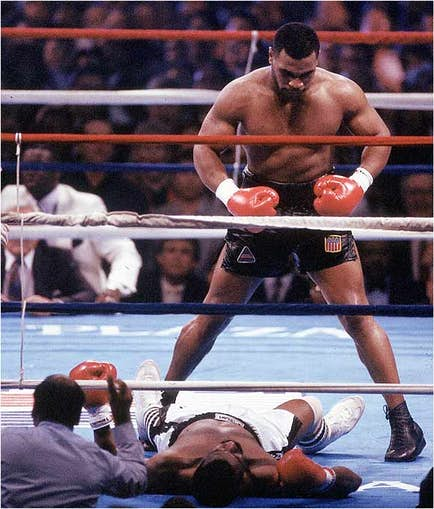 Mike Tyson was slowly gathering an aura of invincibility because of his menacing stance and quick knockouts. By 1988, he already held all the three major sanctioning bodies' belts, namely the WBA, WBC and IBF. Michael Spinks was the former light heavyweight champion who went up the rank to annex the heavyweight title by beating Larry Holmes. After several defenses, he got stripped of the title because he refused to fight a mandatory challenger. Both men were undefeated when they met on the ring. It didn't last long as Tyson knocked out Spinks in just 91 seconds. It further cemented Tyson's reputation as the most talked about heavyweight since Muhammad Ali.
7. Juan Manuel Marquez – Manny Pacquiao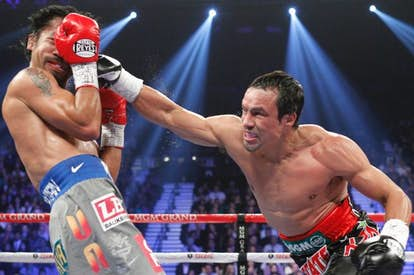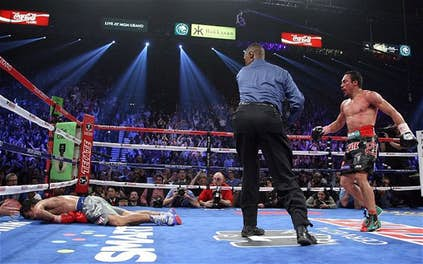 The two had fought three times in the past, with Pacquiao scoring two wins while their very first fight was called a draw. All three fights could have gone either way. Nothing much separated the two fighters, with Pacquiao knocking down Marquez four times but Marquez winning more rounds all in all. The fourth fight was just as close. Each fighter had gotten knocked down. But with Pacquiao leading in all scorecards, Marquez unleashed a killer punch that knocked Pacquiao out cold.
6. Anderson Silva – Vitor Belfort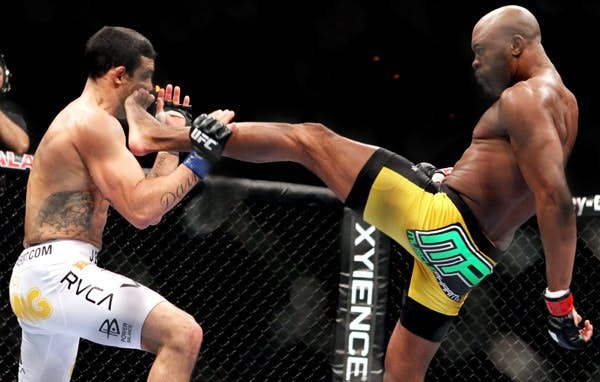 It was supposed to be the fight when Anderson Silva, the best mixed-martial art fighter pound-for-pound in the world, would finally get a real challenge. He was up against fellow Brazilian Vitor Belfort, who was once considered to be a phenom as well. Belfort had the credentials, having been a former light heavyweight champion of the world.  But Silva showed why he is head and shoulders above the competition, recording an amazing knockout through a front kick to the face that fell Belfort in a heap. Two more punches as Belfort lay on the mat provided the assurance that he would not get up again.
5. Thomas Hearns – Roberto Duran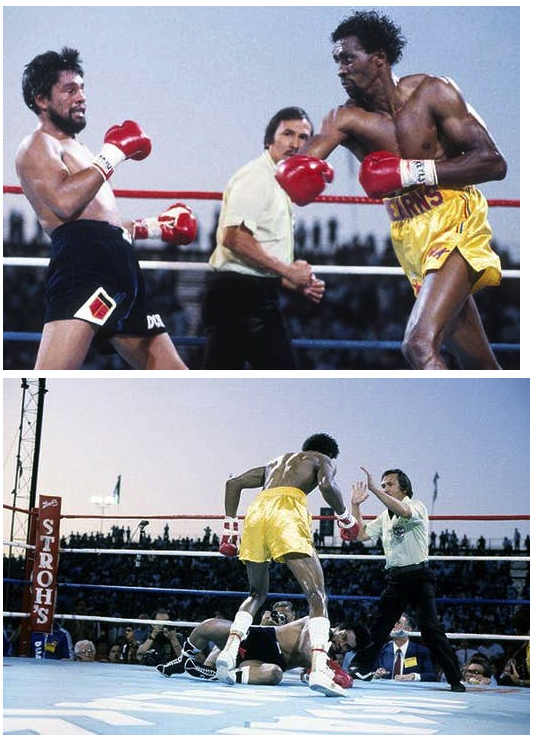 Both fighters were trying to come back from a devastating loss to Sugar Ray Leonard. Hearns was dominant in that fight but lost steam towards the end. Duran swarmed Leonard on his way to a victory in their first fight, but had to surrender in the second fight after a tremendous boxing display by Leonard. Hearns won six straight fights since the Leonard debacle, while Duran was impressive in capturing the junior middleweight crown and in losing a close decision to Marvin Hagler. In the second round, Hearns threw a right hand that caught Duran flush on the chin. He was out immediately.
4. George Foreman – Joe Frazier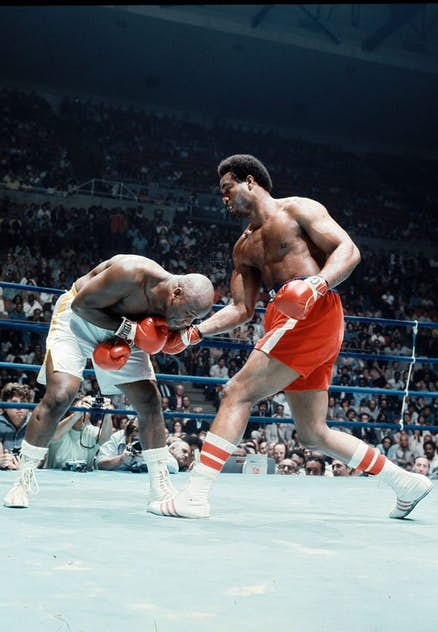 They were two of the greatest heavyweights and they competed in an era when heavyweights ruled the boxing headlines. Both were undefeated. It turned out to be a one-sided fight in favor of Foreman, who knocked down Frazier six times on his way to a second round knockout win.
3. Aaron Pryor – Alexis Arguello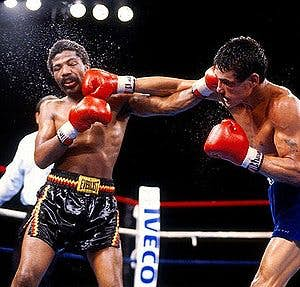 It was a fight that lived up to its hype. The two engaged in 14 rounds of momentum shifts and highly entertaining boxing. In the 13th round, Arguello stunned Pryor that seemed to signal another shift in the closely fought contest. Pryor fought back after drinking from a controversial water bottle that was rumored to contain drugs. He came out slugging in the 14th round, unleashing 20 unanswered punches before the referee stepped in to stop the fight. It was voted the "Fight of the Decade" for the 1980s.
2. Marvin Hagler – Thomas Hearns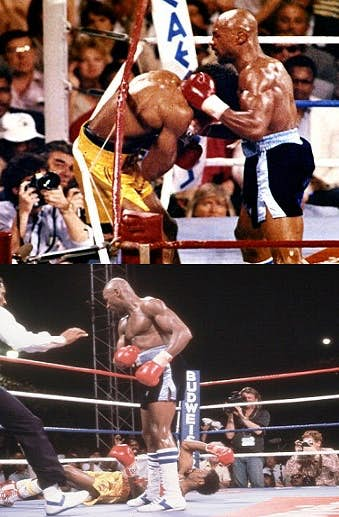 It lasted only three rounds but it was probably the most electrifying eight minutes in boxing history. Hagler came out swinging and Hearns responded in kind. By the second round, Hearns had rubbery legs. Hagler stayed aggressive as he feared that a cut in his forehead might force the referee to stop the fight. He finished off Hearns in the third round.
1. Muhammad Ali – George Foreman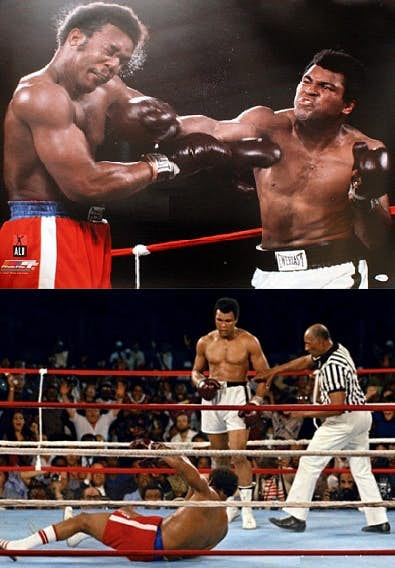 George Foreman was still undefeated when Muhammad Ali challenged him for the title in a bout billed as the "Rumble in the Jungle." Utilizing a rope-a-dope strategy, he let Foreman throw bombs at him. He even goaded Foreman by staying on the ropes while waving the champion in. By the eighth round, Foreman was dead tired and his punches had lost its sting. Ali then threw a five-punch combination that knocked the champion out.
Page 1 of 1: