Conor McGregor made history by being one of the few to be crowned champion in two divisions at the same time. In addition to selling many PPVs, he went on to become one of the most important figures in MMA worldwide. But many did not imagine that his career might have been realized if he had followed his father.
This was revealed by Tony McGregor in an interview with BT Sport, where he remembered the moment when he believed in the attitudes of his son as professional athlete of MMA.
"I didn't think this would be a thing he could do as a career" Tony said. It was like this until I saw him fight in Cage Warriors. When they called their opponent, "He was more mature in years than Conor… and I thought 'oh boy, this is my son's opponent.When his opponent was called out, I just saw this big, blockhouse coming out to music and lights" Tony recalls. However this was a turn point as Tony McGregor points out "And then they announced Conor… and when he walked down that ramp, I didn't see a boy then, I saw a man."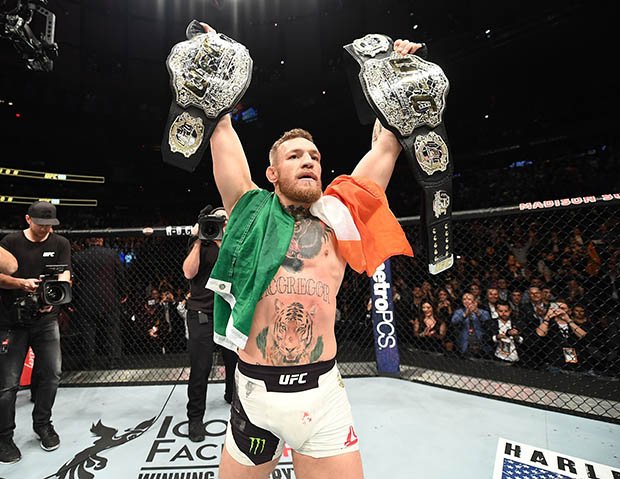 "That always gets me. My boy becoming a man." he remembered. The father of the UFC lightweight champion, admitted that he relied heavily on appearances at first.
"I always remember that, as happened from being a young man to a man. At all times. Accept it, parents do not always admit that. My son was on his own and I was wrong. He knew he had a career."He stated.
McGregor made his MMA debut as a pro in 2008 when he defeated Gary Morris by KO. The debut of the Irish in Cage Warriors was in November of 2010, when lost before Joseph Duffy by finalization. Conor made four fights until he made his UFC debut. In his debut he beat Marcus Brimage by KO in 67 seconds.
I a nine year career, MMA sensation has a record of 21-3. McGregor is away from the octagon because of his wife's pregnancy, where they wait for their first child. The Notorious hopes to return to MMA in May amd we will be looking for him
Continue to next page to see some of Conor's most bloodies moments
Page 1 of 3: