There's something to be said about those sneaky submissions that nobody is expecting. A huge KO is great, but seeing a sub come out of nowhere (Or one that's gradually built up, position by position, like a game of chess) is something special. Here are some of the most surprising submissions from UFC history and very, very recently alike.
Bustamante vs Lindland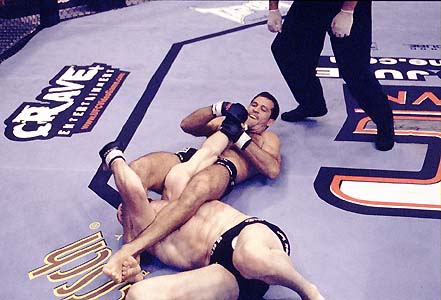 At UFC 37, Bustamante was the victim of a "Brazillian tap". On Bustamante's first submission attempt of Lindland, he "sorta" tapped and the ref stopped the fight but then Lindland protested the tap and they actually continued the bout. No matter, Bustamante went on to finish the fight via submission… again.
Korean Zombie vs Leonard Garcia
The first time these two fought it was the 2010 fight of the year, an all-out slug fest where they threw technique right out the window opting instead to stand and trade. The ref was leaning in to stop the fight several times, but neither guy was going to give in and this fight went to a decision in favor of Garcia. When they met again in 2011, Chang Sung Jung got his revenge when he locked in a Twister with one second left in the second round. The Twister was invented by Eddie Bravo and involved basically twisting your opponents body like a pretzel and then forcing their head in the other direction. It's only been pulled off once.
Chael Sonnen vs Shogun Rua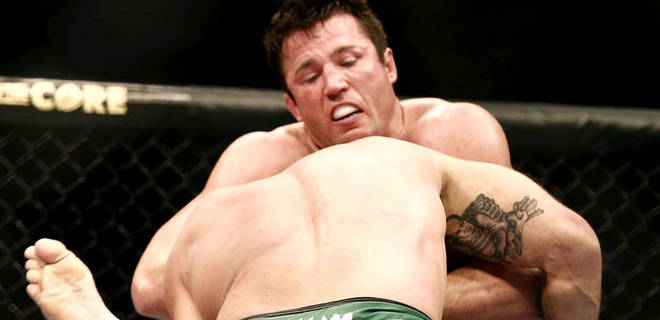 Nobody expected Sonnen to beat Shogun via submission. It had been nearly 7 years since Sonnen had a win at 205, and he went into this bout as the underdog. Chael was coming off of two losses in a row. At first it looked like Shogun would be able to slip out of this guillotine, but Chael kicked the TRT into overdrive and squeezed like his life depended on it until he got the win.
Frank Mir vs Tim Sylvia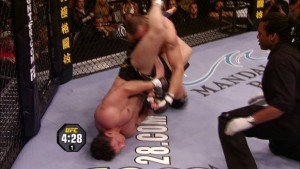 When Frank Mir took Sylvia to the ground at the start of their fight at UFC 48 and Herb Dean stopped the match, at first the entire audience was booing. After seeing the replay, they saw that it only took Mir a split second to snap Sylvia's arm in two like a cracker, and in doing so winning the Heavyweight belt.
Forrest Griffin vs Shogun Rua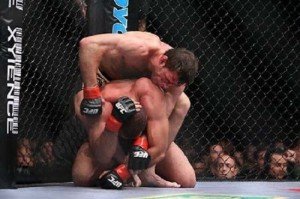 We're not trying to pick on Shogun here, but when Forrest Griffin submitted him with 15 seconds left in his UFC debut, nobody saw that coming except maybe Forrest. Griffin was fresh off of his fight of the decade against Stephan Bonnar, when Forrest asked for the fight against Shogun. Nobody gave him much of a chance against the 16-2 Shogun who had been tearing it up in Pride and was still in his prime.
Anderson Silva vs Chael Sonnen
For starters, nobody expect Chael Sonnen to beat up Anderson Silva for nearly 5 rounds. At that point, people had it in the bag for Sonnen but Anderson showed that you can never count out the champ. With moments left, Anderson locked in that triangle choke that would kill Chael's dreams of winning the belt and make them both lots and lots of money on a huge rematch.
Frank Mir vs Antonio Rodrigo Nogueira
In their rematch, Big Nog was beating Mir for most of the fight until Mir was able to take things to the mat and grab hold of Big Nog's arm. After some craft rolls, Mir was able to hold onto it. Nogueira wouldn't tap until his arm snapped, and so he donated yet another arm to Mir's collection. Mir went on to drop 4 in a row after this bout, before moving back into the win column against Bigfoot Silva recently.
This was the first time Big Nog had been submitted in his career.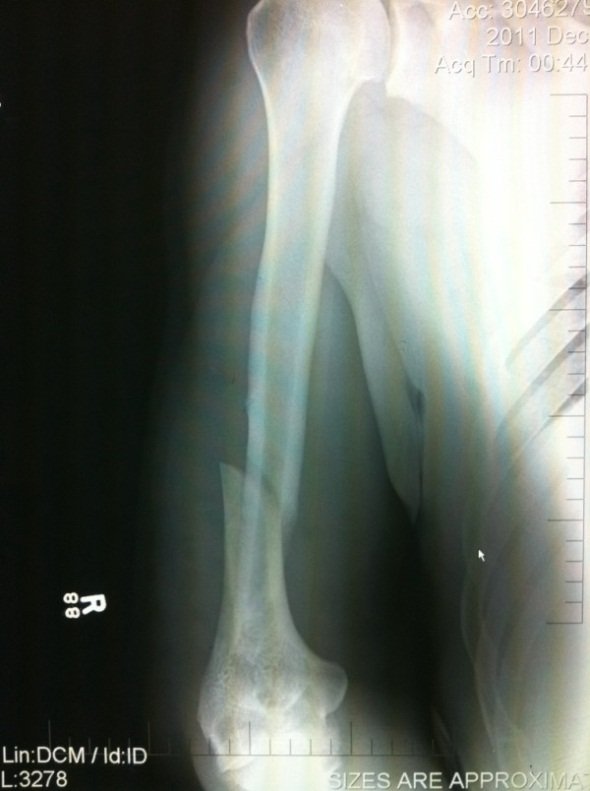 Demetrious Johnson vs Kyoji Horiguchi

With just one second left in the match, Mighty Mouse locks in a sneaky armbar to pull out the finish after dominating the fight for 5 rounds. It's the latest submission in UFC history and will likely remain that way a long, long time. Most fighters would have held on for the win, but DJ isn't most fighters. At UFC 178 which also featured rights with Cowboy vs Alvarez and McGregor vs Poirier, fans were leaving the arena before the main event, and at UFC 186 in Montreal people were leaving before the end… DJ gave them a reason to regret it.
Page 1 of 1: