"Stone Cold" Steve Austin is a pro wrestling legend, but one of WWE's closest-kept is a domestic violence incident involving Austin and his third wife, former WWE Women's Champion Debra Marshall (known in WWE simply as Debra). These days, he's living happily with current wife Kristin Austin, but there are some secrets in the closet it would appear…
Before Kristin Austin, there was Debra…
Worse yet? She alleges the WWE put a gag order on her to prevent her from talking about it in order to keep the image of one of their top stars clean.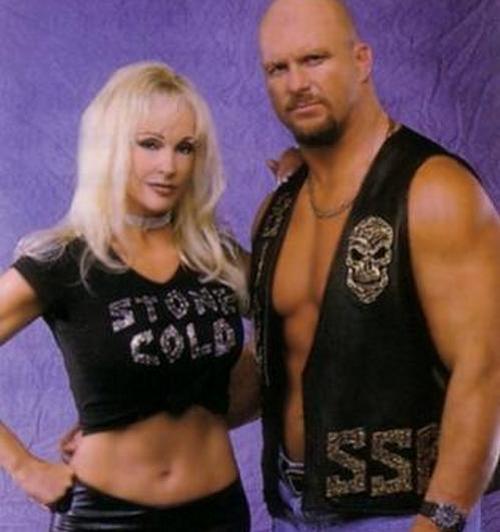 The incident Debra discussed took place, per SportsKeeda, on June 15, 2002. Police arrived at the San Antonio home of Austin and Marshall, discovering her "hysterical" and bruised. On August 14, Austin was arrested and charged with domestic violence.
He would plead no contest to the charges on November 25, 2002 and would be given a $1,000 fine and 80 hours of community service. During that time, Austin filed for divorce from Marshall, with the divorce being finalized in February, 2003.
That is where things get interesting.
According to Marshall, when Austin was arrested, the WWE put a gag order on her. Here are her words from an interview with Fox News:
"The wrestlers to the WWE were nothing but tools. You know, we're money-makers and then, you know what? The people that make the most money, you don't want bad publicity on them, because they're the ones that sell the T-shirts. They're the one that makes the money. They're the one that makes the draw.

And then like for me to have Stone Cold Steve Austin arrested? Oh my gosh, they so hush-hushed that — put it under the table. They put a gag on me for a year that I couldn't talk about this, because they knew that I could totally bring down their top star."
According to Marshall, she was attacked twice prior, but only went to the police after the third time.
Marshall worked in both WCW and the WWE from 1995 until 2002. In WCW, she was often seen on-screen alongside her husband at the time, Mongo. Through much of her WWE career, she served as manager for Jeff Jarrett.
She opened up about her relationship with Austin, and her frustration with the WWE's handling of domestic violence, in the immediate aftermath of the tragic Chris Benoit case.
Benoit has become one of the most notorious figures in professional wrestling history, due to the infamous double-murder suicide case where he killed his wife and son, before hanging himself. Marshall said in her 2007 interview that "maybe if I had spoken up years ago when this happened to me, then I could have saved Nancy [Benoit] and this little child."
Austin would marry Kristin Feres (Kristin Austin) in 2009, and has not had any legal trouble since the 2002 incident.
Page 1 of 1: