We haven't seen much from Ronda Rousey after her most recent loss to Amanda Nunes, it seems like she'd rather just lay low and collect herself. For how outspoken she is, Ronda is a very sensitive person, and you can't really blame her for wanting to tuck away a bit after a devastating loss and having the whole world turn on her rapidly, twice.
Rather than just dwelling on the loss and letting it consume her, it's nice to see Ronda out and about. In particular, she was spotted at protests against the Dakota Access Pipeline.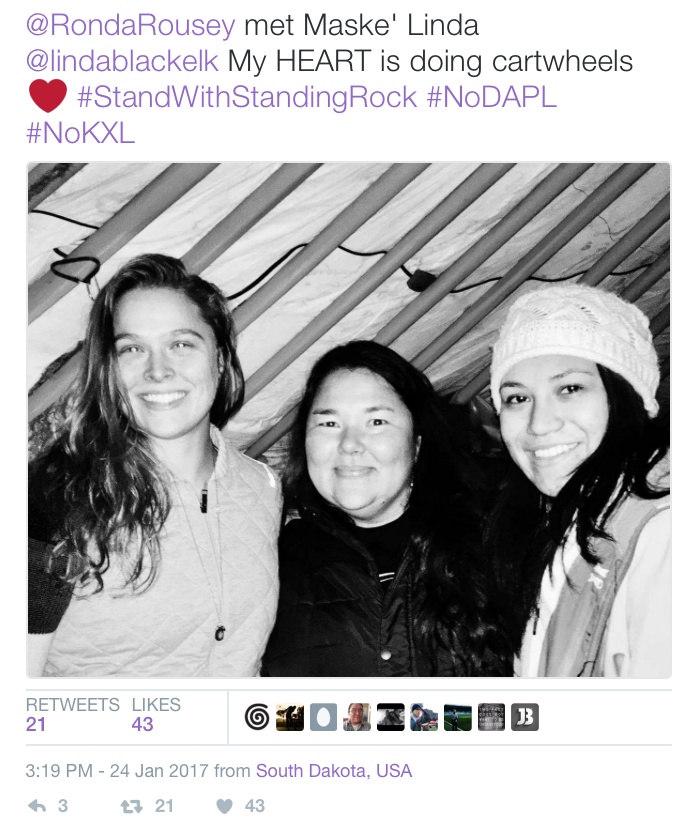 Despite Ronda's appearance, today Donald Trump signed the pipeline into effect, allowing it to move forward, and disappointing the many protestors who have been out on the front lines for months and months.
Ronda and Trump have clashed before, too. She had previously said she supported Bernie Sanders, and after she lost to Holly Holm she got a tweet from Trump talking trash about her.
Politics aside, good for Ronda for doing something she believes in, whether or not you agree with the politics behind it.
Page 1 of 1: