Ronda Rousey has taken the world by storm and her net worth has followed. Her fighting skills have captured the imagination of MMA fans. Her looks and "DNB" discussion have forced many to rethink their concepts of beauty. Her pure ferocity in the cage have challenged perceptions of female athletics.
Ronda Rousey's Net Worth Revealed in 2017
Let's take a look over Ronda Rousey's career and talk about her revenue streams and the upwards spikes in her bank accounts, shall we?
Ronda Rousey: One of the Highest Paid Women in Sports
Rousey made waves earlier this year when she landed in the No. 8 spot on Forbes' list of the highest-paid women in sports. Rousey totaled $6.5 million according to Forbes, with $3 million coming from sponsorships and $3.5 million coming from winnings. By comparison, figures regarding her net worth are substantially more elusive. There are no especially reputable sources that pinpoint her net worth today, but various outlets state she is currently sitting between $5 million and $8 million, with most leaning towards the $8 million mark.
While it's possible she is already at or over the $10 million mark, she will almost certainly clear that milestone following her UFC 193 bout with Holly Holm.
Ronda Rousey's Wealth Compared to Other Fighters
Rousey may be one of the biggest names in MMA today, but in terms of pure net worth, she isn't quite up to snuff with longtime veterans.
Take, for example, Georges St-Pierre. Georges St-Pierre leads all professional mixed martial artists in terms of net worth with an estimated $25 million to his name. Other major stars from the UFC's Zuffa era, such as Tito Ortiz, Randy Couture and BJ Penn, are worth between $15 and $20 million.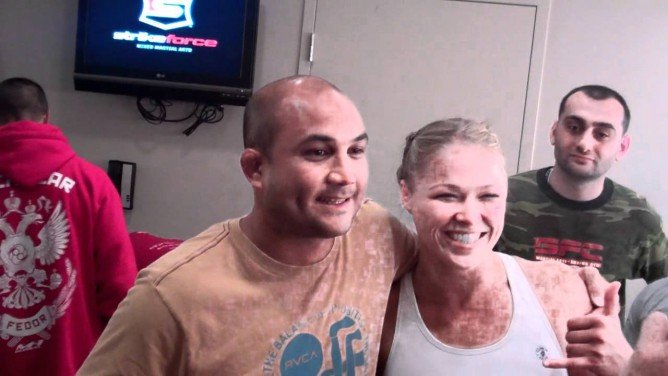 That's a lot of money for sure, but Rousey has been able to close in on their figures with remarkable quickness. It feels like longer, but Rousey has only been fighting in the UFC for just two and a half years at this point, and has fought in the promotion just six times. If she continues at her current clip, she could easily become the highest-paid fighter in UFC history in 2017.
How Much Does Ronda Rousey Make from Fighting in the UFC?

The UFC is notoriously tight-lipped about how much they pay their fighters. While Dana White famously parrots lines about how fighters don't want the whole world to know how much they're paid and is quick to defuse fighter pay talk by asking interviewers if they are satisfied with their own financial situation, the reality is that the UFC tries to keep fighters ignorant as to what their coworkers are making in order to strengthen their power at the bargaining table. This, of course, runs counter to the practices of team sports, where player associations keep negotiations over the table to ensure everyone has a frame of reference for what they should make relative to the rest of the league.
For a long while, it was completely unknown how the UFC's pay-per-view payout system worked, but that changed during a legal battle between Bellator and Eddie Alvarez, where the UFC's contract became part of the case and was revealed to the world (and then dissected by Bleacher Report). The way it works for Alvarez (and most likely for Rousey as well) is that he receives his flat show money and win bonus, and then PPV points that increase as the buyrate passes certain thresholds. UFC PPV points, it is worth noting, are fairly paltry, especially for someone in Rousey's situation.
Rousey carries a pay-per-view card like none other in MMA today besdies the likes of Conor McGregor, and Ronda Rousey net worth reflects that, with a floor in the range of 600,000 buys. Rousey makes $65,000 in show money, commands a win bonus of $65,000 and is always given Performance of the Night bonuses under any and all circumstances which yields another $50,000. A win and PotN bonus gives Rousey a guaranteed $180,000. A 600,000 buy card under Alvarez's deal yields a measly $400,000. Needless to say, even if this is tripled, quadrupled, sextupled, or decupled, it probably doesn't accurately reflect how important she is to each card, or how much revenue she generates for the UFC. UFC owner Lorenzo Fertitta said she "is literally making millions of dollars per fight," but the fact that she isn't in eight-figure-per-fight territory is telling.
How Much Does Ronda Rousey Make From Movies?
Similar to her fighting career, specific numbers when it comes to Rousey's work as an actress are fairly elusive. There is, however, some information available to work with. CelebrityNetWorth.com has a guide to the payroll for The Expendables 3, and while Rousey isn't directly named, the pay floor for expendables like Wesley Snipes, Antonio Banderas and Mickey Rourke was $400,000 and actors with bigger roles made up over $1 million.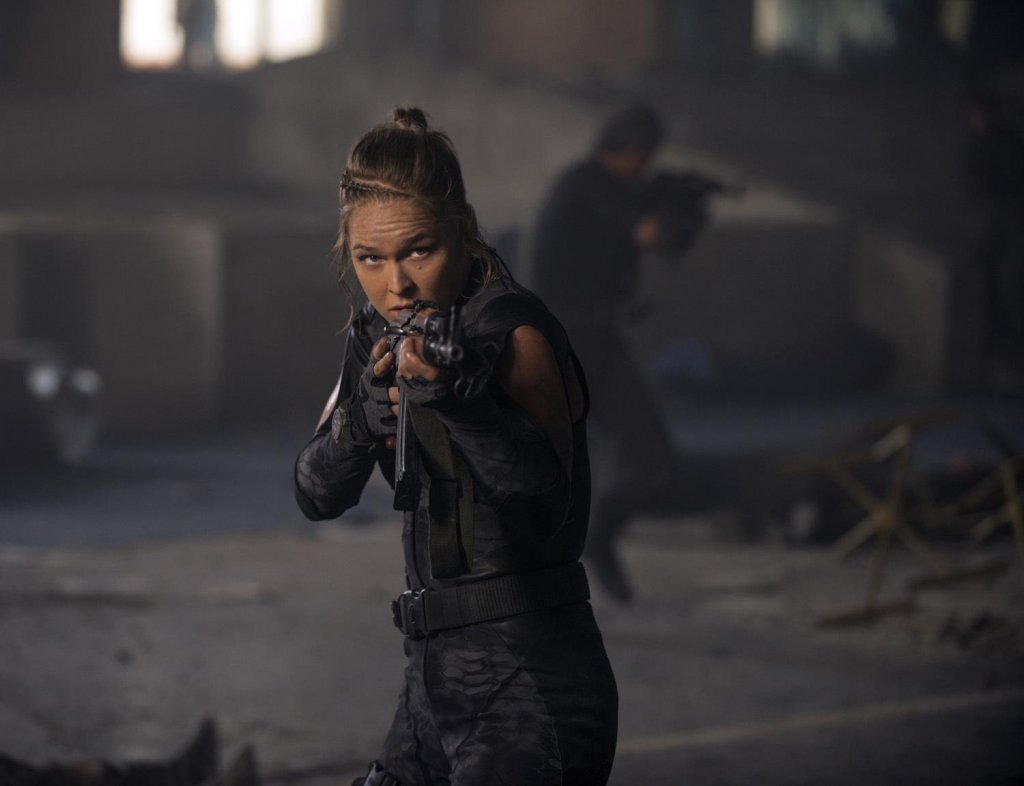 Rousey's star has risen in a big way since she her first few gigs, though, and she will likely make substantially more than that for her work in the Road House reboot. The same goes for the upcoming biopic on Rousey's life story. How much more? This writer has no idea, honestly. You can put together a decent guesstimate if you check out the payrolls revealed during the 2014 Sony Hack, though.
UPDATE: The remake of Road House starring Ronda Rousey has been cancelled.
Ronda Rousey vs. Floyd Mayweather
The Ronda Rousey vs. Floyd Mayweather story has been packaged and repackaged in many ways, but one of the strangest turns it has taken is the discussion of their relative pay. It's strange, of course, because Rousey can't touch Mayweather in terms of revenue…and that goes for most of his opponents, too.
Since this post originally went up, the topic of an MMA vs Mayweather fight has shifted over to Conor McGregor taking on the boxing legend. Estimates are that both fighters could stand to earn over 100 million each if this fight takes place, so both guys will definitely be looking at their balances and smiling, as long as they're responsible with their winnings and don't rack up a huge debt that they'll need to repair.
Once again, UFC owner Lorenzo Fertitta said that Rousey makes "millions of dollars per fight" but even the most anonymous of Mayweather's opponents make more than Rousey. For the sake of comparison, Canelo Alvarez made $5 million for his fight with Mayweather. Marcos Maidana made $3 million for his rematch.
Needless to say, Mayweather himself makes exponentially more than Rousey does. In his second bout with Maidana, Mayweather pocketed a cool $32 million on his guaranteed purse alone. Rousey, quite simply, can't hope to touch that under the current framework for a UFC contract.
Ronda Rousey Hates UFC Octagon Girl Arianny Celeste!
One of the weirdest, most random rivalries to pop up in MMA in recent years has been Ronda Rousey vs. Arianny Celeste. The UFC's biggest fighter has said vicious, angry things about the Octagon Girl on more than a few occasions, and Celeste has been more and more willing to fire back.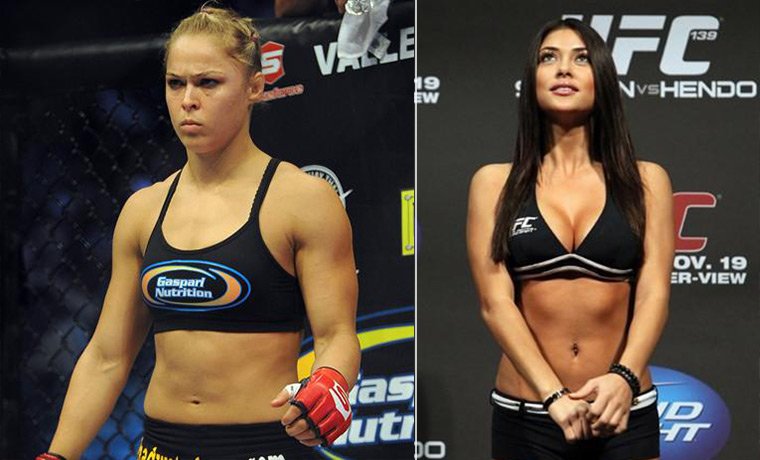 "I don't know if the ring girls get paid too much or the fighters don't get paid enough but yeah. There's definitely a lot more in what the fighters do than what they do. So, I think that's one thing that's unfair," said Rousey on how Celeste is paid more than most UFC fighters. Celeste would fire back, calling Rousey a bully and "ignorant".
While the two haven't spoken up on one another recently, it's only a matter of time before one of them fires another verbal volley at the other. Who do you think will start off the next round?
Ronda Rousey's Instagram Account
Ronda Rousey's Instagram account is well used, but the UFC champ doesn't flaunt her wealth on social media like some (including UFC President Dana White). For the most part on Instagram, Rousey keeps things focused to her fighting life and her general interests. She will promote her next fight, she post selfies at the gym, she will have photos snapped while hitting the bags, but you won't see her snapping photos of her 15 Ferraris or her shooting a video of her flushing a roll of bills down the toilet.
That said, you can still find some glimpses into her living it up, like this shot here of her coach, Edmond Tarverdyan and her (alleged) boyfriend at the moment, Travis Browne all lounging on a porch with a gorgeous view.
All in all, Rousey already has a lifetime of money, and is lined up to make a whole bunch more. Good for her, right?
Page 1 of 1: