Rory MacDonald is one of the top fighters on the planet, and it's great to see him back in the win column after a tough loss to end his UFC stint. He's put Bellator's WW division on notice in a big way with a dominant victory over Paul Daley. If you look at the before and after pics, it doesn't even look like the guy was in a fight that night.
Here's Rory before and after the fight: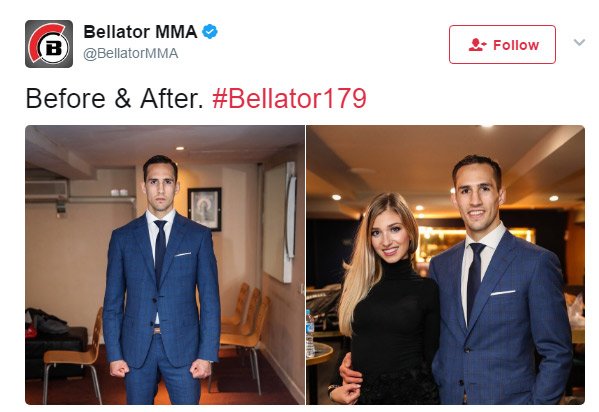 "But you should see the other guy…"
Rory's opponent, Paul Daley, was looking a little worse for wear… and obviously in a bit of a grumpy mood, since he got into it with another Bellator fighter, Michael Venom Page, right after submitted by Rory.
Here's a video of the brawl, it's hard to make out, and it's unclear if this was a staged type of thing or happened naturally. It's not out of character for Daley to attack someone after a fight, he was kicked out of the UFC for doing exactly that.
A fight against MVP kind of makes sense. Daley is coming off a loss to the new top-dog in WW, and MVP needs a step up in competition as he tries to climb the ladder. Both guys are among Bellator's most well-known, so this doesn't exactly seem totally organic… but again, with Daley, it's not unprecedented.
Page 1 of 1: