Remember those photos that surfaced last week showing Conor standding over his sparring opponent, former champion boxer Paulie Malignaggi? It caused all sorts of drama, with Paulie saying it was fake news, and that he was knocked down by a PUSH and not by a punch, and that he had been lighting Conor up all throughout their sparring sessions. He was begging them to release the tape, and Dana White obliged… however, the video footage shows a very different story.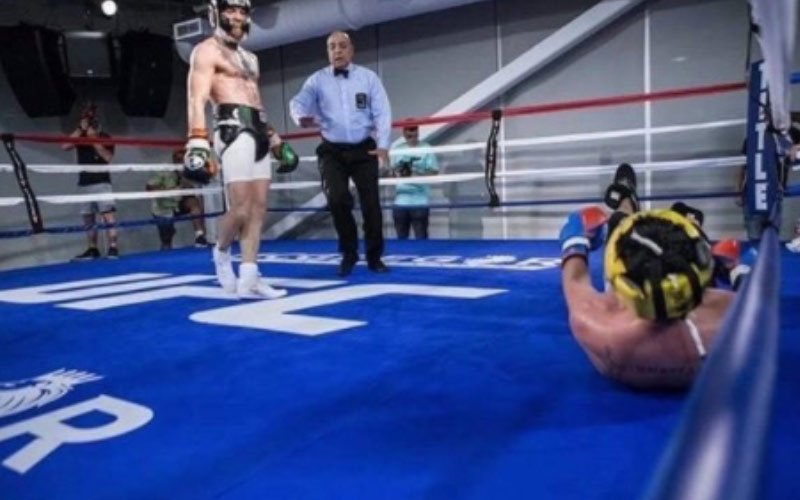 It shows the moment before Paulie hits the mat, and it definitely wasn't a push that had him hit the canvas, it was a punch. Video also shows Conor landing flurries of strikes.
Granted, some have said that Paulie was really tired when this happened, and it was more  to do with exhaustion rather than getting overwhelmed by Conor's supreme boxing prowess. Also, people who know about striking have said that even thought Conor was getting the better of him in these clips, that his boxing still isn't looking great – amateur at best – but I guess we'll see how the cookie crumbles in about two weeks from now when Conor McGregor and Floyd Mayweather finally have their show down.
Dana posted the videos with the following caption:
"For all the people who think @thenotoriousmma can't box. This is gonna be a FIGHT!!!! For those that don't know this is Conor vs Paulie Malignaggi former IBF and WBA World Champion."
And here's the other video that Dana posted:
Even if Conor's technique isn't perfect and crisp, this is still a rough one for Paulie, but he WAS begging for these videos to be released so, there you go I guess? Careful what you wish for.
Page 1 of 1: