Tyron Woodley has been catching some heat from fans and from Wonderboy alike after winning the belt. Tyron sat out for a year and a half waiting for his title shot, finally got it, then went on to win the belt. He was a big advocate that the champs should always be fighting the top contenders, rather than the "money fights" and the circus that things are turning into. However, after winning the belt, he has changed his tune quite a bit, now he's looking to pick and choose his opponents and to get those big money fights rather than necessarily fighting the most dangerous guys.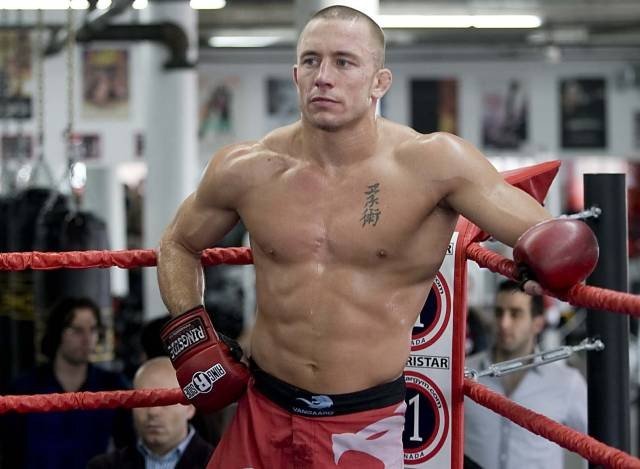 Tyron immediately started trying to get the ball rolling for fights with Nick Diaz and GSP, who have both been on the sidelines for years. Tyron released a series of text messages with GSP, acting like it showed GSP agreeing to fight him, but in reality it seems like it was just GSP being friendly and nice and respectful (and Canadian), rather than actually saying he's down to get in there with Tyron. If there's anyone who has the right to hold out for a money fight, it's a guy like GSP – not the current champion. There's nothing wrong with fighters wanting to get paid, but when you have a series of strong contenders who all deserve a crack at the belt, it's a tough argument for Tyron to think that Nick Diaz deserves the shot first. You can't blame the guy for wanting to get paid, but he can't act like he's surprised that he's getting called out for it, either.
Anyways, here's a look at the texts between Woodley and GSP where Woodley is trying to get himself that GSP money and GSP is politely responding.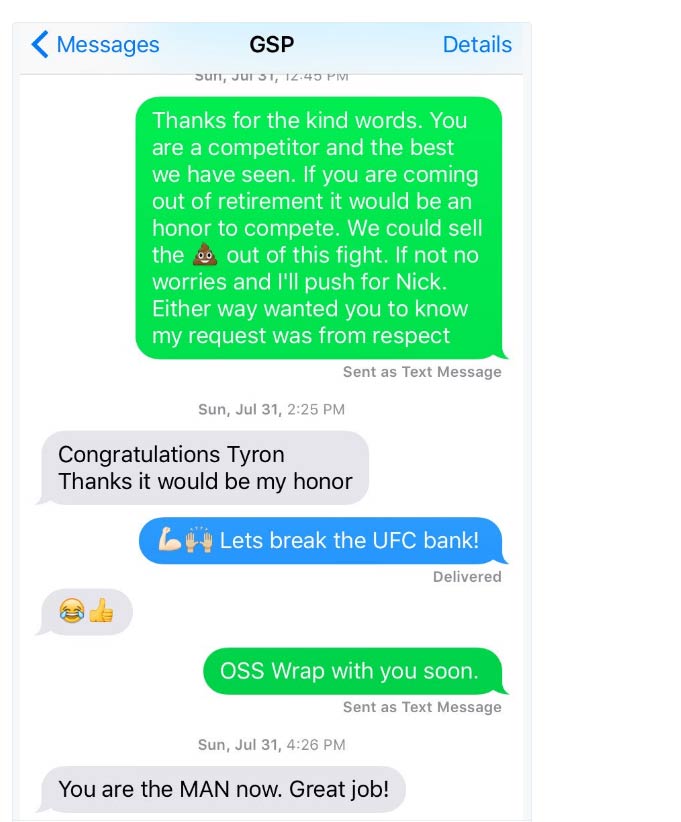 Tyron took that as GSP accepting the fight when he said "Thanks it would be my honor", but in reality it's probabally just GSP speaking hypothetically, plus the language barrier. Also, it's not a good look for Tyron to leak these texts, unless he had GSP's permission, but he's trying to prove a point. When you haven't even defended the belt yet, you don't have a lot of pull yet, but hey – we wouldn't want to fight Wonderboy, either.
Nate Diaz isn't too impressed with people setting up fights via text message:
"I seen Woodley and GSP shaking hands and text messaging 'let's make a fight'. That's boring," Diaz said.
"You just killed the whole thing for our sake. Don't no one want to see no fight that friends set up. (Expletive) that."
"How about me and my guys versus you and your guys? Now that's entertainment. Let's see that. That's good TV and that's real (expletive)," Diaz said.
Page 1 of 1: