Conor McGregor has said in the past that he doesn't lose, he either wins or he learns. This quote has been going around after the Mayweather fight, and when Nate Diaz caught wind of it he had to put in his two cents.
Nate is in a great position for a massive payday coming up if the trilogy fight happens between himself and Conor, and he's putting in some work.
Chances are this isn't Nate trying to get his name in there for a fight with McGregor, he's not really one to play games like that it doesn't seem like, he just saw this quote and genuinely wanted to call BS on McGregor, and here's what he said: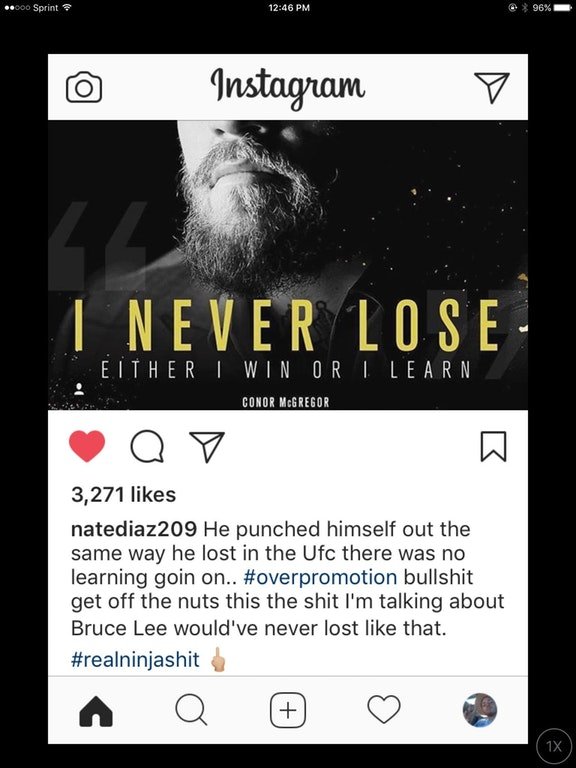 On a recent podcast, Nate's boxing coach said the fighter is looking for upwards of 30 million to fight Conor for a third time.
"At least $20 million, $30 million," Perez told Submission Radio.
"Come on. UFC's making a whole lot of money, a whole lot of money and they're pocketing it. They're giving more to McGregor, so it's not fair because it takes two in that ring to draw a crowd — I mean, a good two fighters."
"It's just like Mayweather when he fought Berto. It was not even sold out at all. It was embarrassing. It's because that guy couldn't draw a crowd.
"See, that's what I'm saying, it's the fighters that draw the crowd, and Nathan and McGregor, third one would be outstanding. Everyone knows that. So he needs to get paid at least $30 million easy."
Page 1 of 1: