It's a sad day for fight fans and the world as a whole because he just lost a true fighter.
We may have taken a cheeky look at Dada 5000's whole ordeal, but it could have easily been a tragedy. Unfortunately, tragedy seems like it's waiting around every corner these days, and not only inside of the cage. Jordan Parsons passed away after battling a series of injuries that happened after he was the victim of a hit and run. We don't know who the driver was yet, if they had been drinking or using drugs, or any other information besdies the fact that they are a complete coward.
Jordan was the complete opposite of a coward…
Anyone who is willing to step inside that cage to fight for their pride, glory, and family… well, that takes a special kind of person, and Jordan was absolutely a special kind of person.
Jordan fought professionally in Bellator, and had an impressive record of 11-2. He was a fan favorite, and known all around the community gyms as an all-around great guy.
There is a GoFundMe page setup for his family, and the list of donors is a who's who of familiar MMA names, the community is really rallying around to give support to Jordan's family. Originally, the fund was to help with his medical expenses, and now hopefully it goes towards his family and gives them one less thing to have to worry about, at least for a little while.
This is a reminder that life is fragile. Jordan left this planet way too soon, and the young man still had his prime fighting years ahead of him, but they were stolen by a selfish driver who hit him and then took off like nothing happened.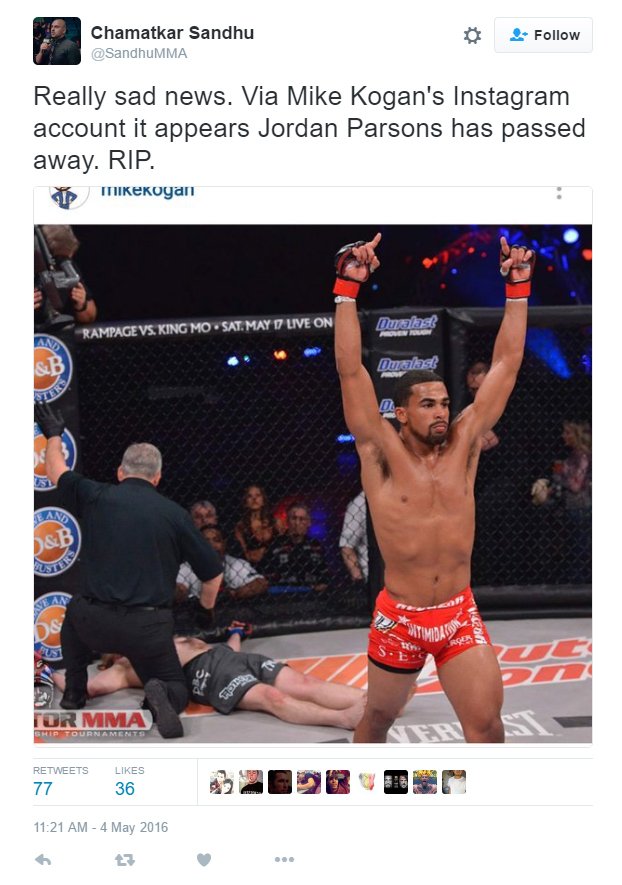 Parsons was originally in a coma after the May 1st accident. May he rest in peace, the world just lost a real fighter.
Page 1 of 1: