Miesha's boyfriend, Bryan Caraway, had the best seat in the house for the UFC 200 weigh-ins today, when his long time girlfriend Miesha Tate (Women's bantamweight champion) had to strip down in order to make weight for her fight.
It was a buzzer beater, too…
The time limit for weighing in was about to pass, and at the very last moment Miesha was able to make weight. It might not seem like her clothes would weigh all that much, but when every little fraction of a pound counts, fighters will take any help they can get.
Every fighter has to find the balance between cutting more weight so that they can be bigger on the day of the fight, but without starting to experience too difficult of a weight cut which carries its own set of problems. There's a whole other fight that takes place before the fighter makes it into the Octagon on fight night.
Plenty of other fighters, both male and female, have had to pull up the towel and drop their trousers in order to just squeak by the weight limit.
If you don't make weight, you automatically lose 20% of your fight purse, which is what happened to Johny Hendricks today.
Things got heated at the weigh-ins in more ways than one…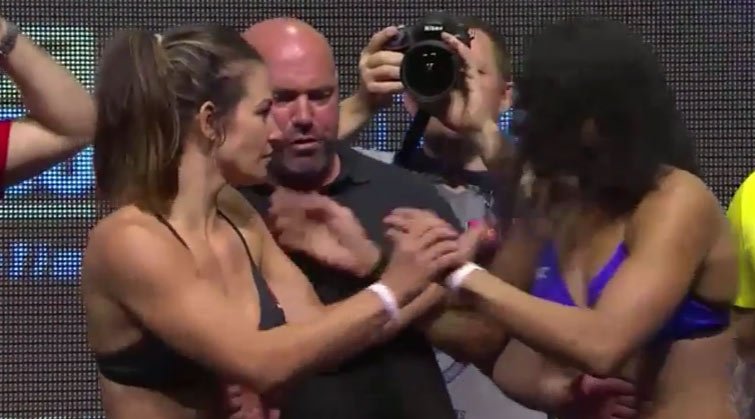 A scuffle almost broke out between Tate and Nunes at the stare-downs later in the day.
The UFC's early weigh-in policy seems to be doing a lot of good. It could be confirmation bias, but it feels like the quality of fights has been higher since they introduced the new style of weigh-ins for fighters. Fighters now weigh-in earlier in the day, which gives them the opportunity to stop cutting weight a few hours sooner.
Find out who else had some problems at the weigh-ins and lost thousands of dollars and Check Out Meisha Tate Naked Pics:
Page 1 of 4: