Page 1 of 4
This is one of the eeriest and most bizarre pieces of martial arts lore that you'll ever see. 
Here's the story of a mentally ill man who stepped into the wrong gym at the wrong time and ended up disappearing off the face of the earth after his limp corpse was proudly dragged into a backalley by a cold-hearted blackbelt. There are so many strange facts to this story, and so many unanswered questions. One of the strangest being the fact that the perpetrators captured this crime on video.
This is a cold case, it hasn't been solved yet, but there's still a large community of people online looking for any hint or clue that they can find.
Maybe when enough people see this article we'll be able to draw more attention to what happened and finally find some closure. 
It all started at a now-defunct Gym in Dumfries owned by a man named Bobby Joe Blythe, a former U.S. Marine with a bit of a rough reputation locally. Blythe most recently made the news when he crashed an airplane into a field, but today we're looking at what happened on the 13th of December, 1984 at 7:00pm in a small Karate dojo.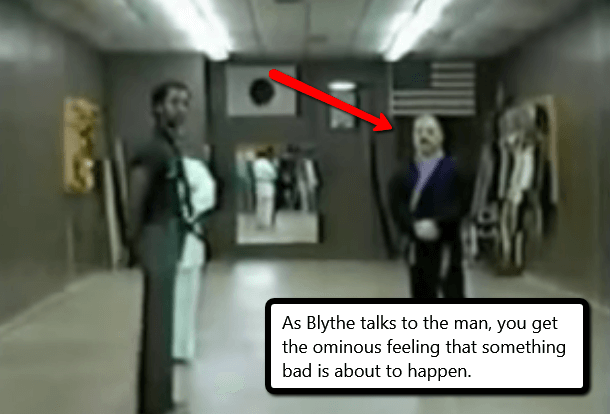 Whenever new gyms would open up nearby, Blythe would send his top students over to put them to the test.
On this fateful day, a man showed up in Blythe's gym saying he is a Karate master and that his master is Jesus Christ. Blythe condescendingly confirms for the camera that the unknown man is a 10th degree red belt promoted by Jesus, that they're all there for knowledge and to learn. They allow him to demonstrate some techniques with one his his students, which quickly turns into a real fight. What happens next is outrageous.
Video on the next page:
Page 1 of 4: