I think it's safe to say Jose Aldo doesn't really like Conor McGregor too much.
Not just that, but Aldo sounds like he feels he has been let down by the UFC.
Aldo commented on the fight offer for UFC 196 after Rafael dos Anjos pulled out, "The fight was not at featherweight. Why would I rematch him in a different weight class with no belt? Now, to make this fight at 155, where he was full of juice in his body, where he hides and nobody tests him, only when he gets to Las Vegas, a week before the fight, and then it's way easier for you to clean the body and fight."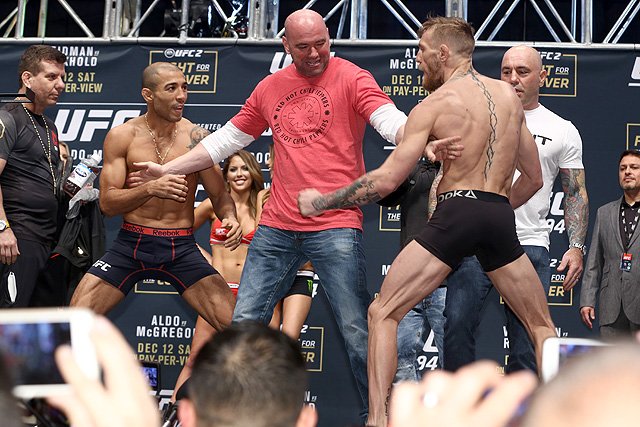 "They offered the fight knowing that I wasn't trained at all. I can't say anything. I can train, beat Frankie Edgar and then know that I've earned my fight for the title again."
Jose Aldo was very persistent with his approach for a rematch with Conor McGregor. Contacting McGregor everyday.
"We called and texted him everyday, asking for the rematch- and nothing, there was no talk for a month. I waited for a call from Dana for three weeks, and when he texted Dede I was doing a charity soccer match in Manaus, and he talked about replacing Rafael."
"He knew I wasn't training because I was coming back from (medical) suspension. They already had in mind who to put against Conor."
"That's the path they try to follow, and it's kind of dirty to me. There's no negotiation. We ask, and not always we get a response. When they respond is like that, and then they say they love us. It's a bit weird. But what can I do?"
Aldo doesn't agree with the Diaz rematch. He said how it's a waste of time and means nothing. Also, he said how Conor McGregor gets special treatment for the UFC, "They treat him differently, doing this rematch that means s–t."
Continue to next page
Page 1 of 2: