It's the 7 year anniversary of a fight that created two things.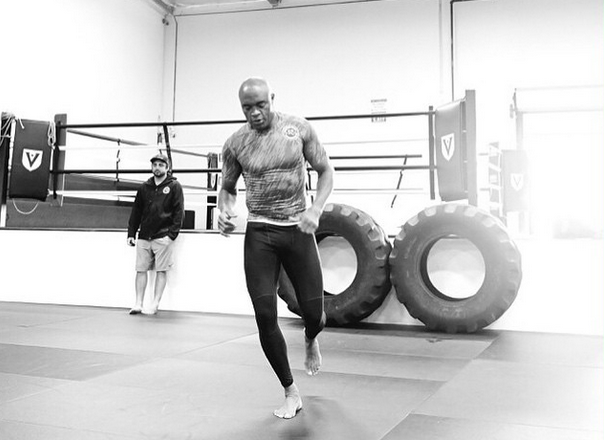 The first thing is one of Anderon Silva's best highlights. You see this fight played over and over anytime there's a Silva highlight, it's just legendary.
And secondly, one of the funniest MMA interviews ever. Forrest Griffin's interview on the Jason Ellis show after this fight is absolutly hilarious and you've got to hear. We're going to embed that interview at the end of this post, because hearing Forrest describe what it was like to fight Anderson Silva is too good to miss. If you haven't heard  the interview before, you're in a for a treat. If you have heard it, it's time to hear it again.
Classic: "He looked at me like I was stupid for trying to punch him… Then he punched me"
So make sure you stick around for that…
But first, let's take a look at the actual fight.
This is right after Forrest had lost the 205 title to Rashad Evans, and Anderson Silva had moved up a weight class to completely put on a clinic. Forrest wasn't just some random guy, he was very recently a champion in a weight class 20lbs heavier than Silva's home.
A lot of newer fans have only seen Anderson Silva's recent fights, and might not realize the aura of invincibility that existed around this guy. They miss out on the context of how scary it was to fight him, of how epic it was that Chael Sonnen dominated him for most of their first fight, and they don't really realize why Silva has so much respect from the fans. It's important to go back and watch older fights to really get an appreciation for some of these legends that are closer to ends of their careers these days, because you just can't get a full appreciation for their achievements and contributions to the sport of MMA without seeing the actual fights that made them legends.
Having said that, here's Silva vs Griffin from UFC 101:
What's just as entertaining as the fight, maybe even more? Hearing Forrest talk about it after the fact. When there were talks about him being matched up against Jon Jones, he gave some inside info about his fight against Silva and you've got to hear it:
Page 1 of 2: