Megan Olivi is a talented and beautiful host who used to work for an MMA website, and now works for Fox Sports where she's a host and interviews fighters. Sometimes office romances can get weird and awkward, but this couple is a perfect match for eachother. It's a pairing of talent on the tv screen mixed with an incredibly talented fighter who's murdering guys in the 125lb division.
Most recently, Joseph Benavidez put on a show while dismantling John Moraga at UFC 187, one of the best guys in the division.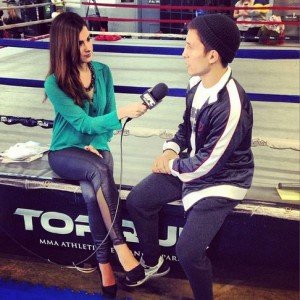 Joe and Megan got engaged in late 2014. It's only a matter of time until they've got a belt to go next to that ring. Joben probably poses the biggest threat to Mighty Mouse, and is sitting comfortably as the number 1 contender.
When Joseph Benavidez was fighting for the WEC years ago, he was being interviewed by Megan and you could see a sparkle in both of their eyes, and you can tell she loved dropping the "Beefcake" nickname. It's all over their faces, the way she laughs at his dumb joke, their body language. Apparently, this is right around the time that they first met, all the way back in 2010.
Now it looks like there's another possible romance brewing out of Team Alpha Male as this reporter gets lost in Chad Mendes' eyes.

Arianny still has the best P4P reaction to a fighter, though.
Page 1 of 1: