We've all been waiting for so long and it's finally done. Conor McGregor and Nate Diaz faced off in one of the most intense rematches, and possibly one of the best fights, in UFC history. Oh, and a bunch of other fights also happened!
Here are all the important things you may have missed at UFC 202.
Cody Garbrandt Damn Near Killed a Man
Cody Garbrandt is the new "sure to be a title contender before long" guy at 135 pounds and, yeah, it's easy to see why. Facing Takeya Mizugaki in the "prelim main event", he put a big hurting on the Japanese fighter and finished him with punches in the first minute. Notes:
Garbrandt is now 10-0 with wins over a solid fighter in Marcus Brimage, a former top-10 name in Thomas Almeida and another top-10 name in Mizugaki. He can't be far off from a title shot.
He's also been talking massive amounts of smack about the current champion, Dominick Cruz. Not a bad idea, given how important smack talk is these days.
Cowboy Cerrone Did the Greatest Combination Ever
That combination was NASTY!!!!! #UFC202 @CowboyCerrone https://t.co/vIJmBpqyYX

— #UFC202 (@ufc) August 21, 2016
Look at that up there! That looks like something out of a video game! Left, right, left, right, fight over! Beautiful stuff! It's a great win for Donald "Cowboy" Cerrone, and the latest sign that he's on to something great at 170 pounds…for now, at least. Notes:
Cerrone is now on a three-fight winning streak at 170 pounds, with wins over Charles Oliveira, Patrick Cote and Rick Story. Those are three really solid opponents, and two really solid veterans.
While Cerrone is on fire at 170 pounds, he called out lightweight champ Eddie Alvarez! What's up with that?
I'd love to see Cerrone keep going at 170, but that's a very smart call-out. Cerrone actually beat Alvarez in 2014, and there aren't any other big money opponents for Alvarez.
Rumble Johnson is a MONSTER
Y'all know that Anthony "Rumble" Johnson can stiff a mofo right quick, right? Yeah, well he did that again. Facing off with a top-10 name in Glover Teixeira, he landed a clean uppercut as Teixeira ducked forward. That ended the fight right there, in just 13 seconds. Notes:
Rumble thanked Teixeira for being a professional. What a class act! Now if only he could stop getting physical with women…
Rumble is pretty much guaranteed a title shot if Jon Jones isn't around. There just isn't anybody else in the discussion right now and he's 12-1 since getting booted from the UFC in 2012.
Unfortunately (for other contenders) he may not have a chance to get that title shot. Dana White and Jon Jones are both teasing that he'll be back sooner than later. If so, that'd leave Rumble out in the cold.
Conor McGregor Evens the Score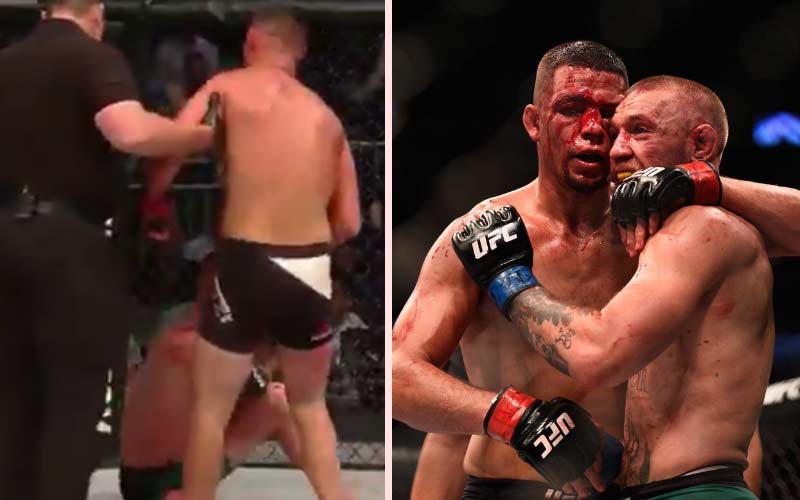 It wasn't quite as decisive as the first fight, but Conor McGregor and Nate Diaz put together an exciting second chapter to their rivalry. Much like their first fight, McGregor looked amazing for the first round and a half, but started fading after that. But while Diaz was able to capitalize in their first fight with a boatload of punches and rear-naked choke, McGregor kept himself just fresh enough to battle back. That made for three back-and-forth rounds. In the end, McGregor won via judges decision…but just barely. Notes:
The official scorecards read 48-47, 47-47, 48-47, with McGregor winning a majority decision. Really though, this could have gone either way.
The deciding factor was likely a McGregor knockdown of Nate in the second round. The round was incredibly close when all was said and done, but judges will almost always break in favor of the fighter that scores the knockdown.
Diaz and McGregor both called for a trilogy fight. McGregor, however, said he wanted the fight to be at 155 pounds, as he can now set the terms of engagement as the winner.
Everything Else
Hyun-Gyu Lim got smoked by Mike Perry. Lim's kind of a bad fighter, so don't read to much into it. It was quite a pretty knockout, though.
Lorenz Larkin knocked out Neil Magny in a surprising upset. Magny was widely regarded as a top-10 fighter and Larkin…well, he wasn't. With a win over Robbie Lawler in his pocket, though, it's worth wondering if he may be somebody to keep an eye on.
Team McGregor actually went 2-0 on the night. Artem Lobov, a training partner of McGregor, absolutely destroyed Chris Avila, a training partner of Diaz. He smashed him up with leg kicks en route to a unanimous 30-27 decision.
Page 1 of 1: