Canadian MMA fighter Georges "Rush" St. Pierre isn't known for finishing fights, but he is building up a reputation as someone who can finish business deals. After launching his hugely successful DVD training program, RushFit, the humble champion has been carefully calculating his next move. While things have been rosy outside of the octagon for the mild-mannered champ, he's had his share of controversy inside the cage. GSP has been criticized in the past for greasing up between rounds, but when you're going to lay on top of a guy for 25 minutes in a row, it really helps with your submission defense if you're slipperier than a jellied eel.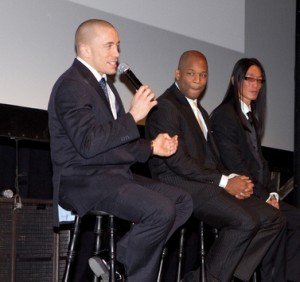 We reached out to GSP's accountant and business manager, who took credit for dreaming up this whole scheme in the first place. "It's all really simple, if you think it…" said the accountant. "Basically, while looking over the books I noticed that Georges has been spending an unbelievable amount of money on Vaseline. I'm not talking bottles here; I'm talking trucks full of the shit. Pardon my French. It was weird though, because I couldn't find any expenses for storage or warehouse space, so he must have been using this stuff almost immediately. Like, as quickly as it could be shipped in, he was using it. We're talking by the truckload here, do you understand? Do you realize how much Vaseline can fit inside a truck? I have no idea where it's all going, but either way – it hit me like a left hook from Johny Hendricks. If Georges were to simply just invest in building his own Vaseline factory, it would pay for itself after only about four and half months at the rate that he was going through the stuff, and with a huge fight coming up on the horizon, it just made sense. I'm not a genius, I just put 1+1 together, you know?"
When asked why he decided to invest money to produce his own Vaseline, Georges said, "I tinkdateef hi buy whole factory, I save more… how you say… monies."
The UFC Reacts To GSP's Latest Investment
Here are some of the latest reactions to this news from around the UFC, and here's what some of your favorite fighters had to say. Don't forget to have YOUR say, what do you think about GSP buying a Vaseline factory? Great move, or was it blatantly transparent? Slip 'n slide your way down to the comments below and let us know what you think!
• We caught up with BJ Penn to ask if he had heard the news of Georges' entrepreneurial endeavors, to which Penn simply said "See, I told you guys."
• After hearing that GSP would be in possession of a commercial-volume of grease, Roy Nelson showed up with a truck full of chicken and mozzarella sticks, before being informed that it wasn't, in fact, that type of grease.
• Dana asked if he could score a jar here and there to keep his head shiny.
• Anderson Silva had a lot to say on the topic of GSP's Vaseline factory, but it was too high pitched to be heard by the human ear and we don't speak Brazilian.
Page 1 of 1: