From winning the "Fight of The Century" to getting poached by Bellator in just one move, well played Gilbert.
Well, it's not written in stone yet but word is that Bellator has offered 200k + PPV points to Gilbert Melendez if he signs with them. Not written in stone = we haven't seen the signed contract, so until we do it might as well not exist. The UFC has first right of refusal, meaning that if they want to match the offer then Melendez will have to stay with t heir organization. In the past, Dana White has gone on at length about how  fighters should shop around, get a price, find out what they're worth and on Tuesday Dana White specifically suggested that Melendez should test the market, and it seems Gilby is doing just that. Not only did Bellator offer him over 200k a fight plus points from their non-existent PPV events, but the World Series of Fighting has come out and said that they believed their offer to Gilbert was even better than Bellator's.
I have a feeling the UFC's offer was considerably lower. I mean, not counting the mystical "locker room bonuses" of course.
Is Bellator bluffing?
How many times do you really want to watch Gilbert Melendez fight Chandler and Alvarez?
Who else does Bellator even have that could come close to decent match up with Gilbert Melendez?
If you've been following MMA for a while, you know that Dana likes to believe that the UFC is the only game in town and he's not entirely wrong, except for the the 37 BILLION dollar elephant in the room that owns Bellator, of course, and has their eyes set on the UFC's top guys now rather than signing UFC-castaways.
Cesar Leading an Exodus
Here's a tweet from Gilbert Melendez" manager, Cesar Gracie, who also happens to manage Nicholas and Nathan Diaz. It's worth noting that this tweet has since been deleted, but c'mon, you can't delete things off the internet bro.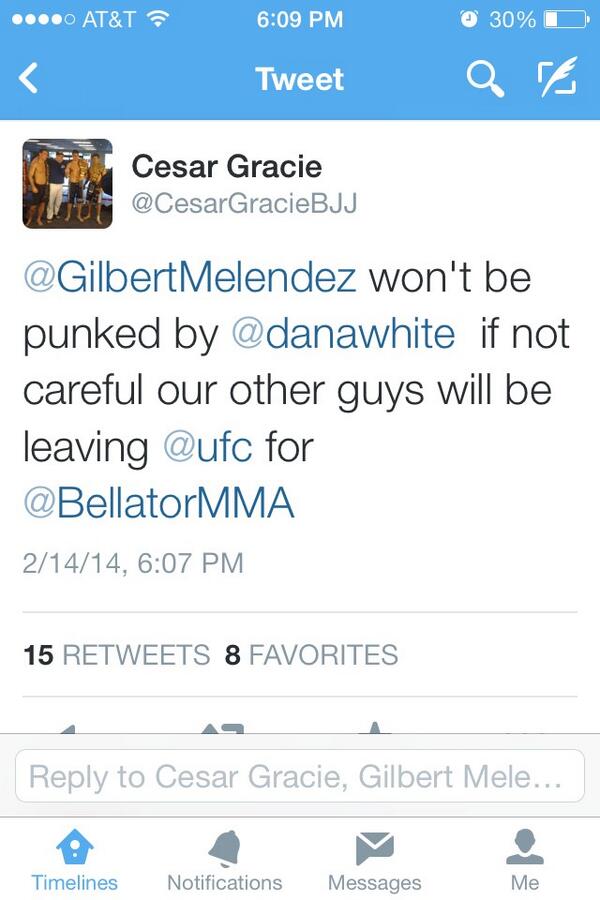 Page 1 of 1: