Now that GSP has announced that he's ready to come back to the UFC and is in the process of selecting an opponent, it seems like the comeback is just a matter of time. This has been rumored ever since GSP walked away from the sport after his controversial victory over Johny Hendricks, but he had wanted to take a break since before that fight even took place. When you've had a career like Georges has, you've earned the right to do what you want, even though Dana White kind of threw him under the bus.
GSP has been enjoying his time off…
The reaction to a GSP return has been mixed. Potential opponents are happy, because GSP would still be one of the biggest draws in the UFC, so that means a big potential payday. Michael Bisping is at the top of the list, apparently GSP's people have approached him for a fight – and the champ is into it. Fans are excited to see GSP possibly become a two-division champ, but can you imagine if Bisping were to win? Bisping is fresher and more active and really seems to be coming into his own, and GSP would have been on the sidelines for years and is used to fighting at a smaller weight class, so Bisping might actually have the advantage in this fight.
Who would have thought only one of these people would still be holding a belt?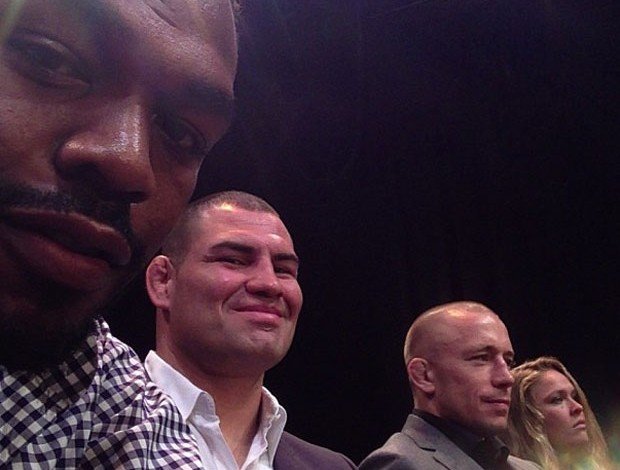 Can you imagine a world where Michael Bisping has victories over Anderson Silva and Georges St Pierre?
Brock Lesnar and CM Punk both have matches coming up in the UFC, we're in a bizarro world where anything is possible, and Mike Bisping is taking full advantage of that by trying to line up fights with Dan Henderson and GSP. This is real life, don't pinch yourself – you're awake.
It's obvious who the money fight is. When you Google "Michael Bisping", look who shows up: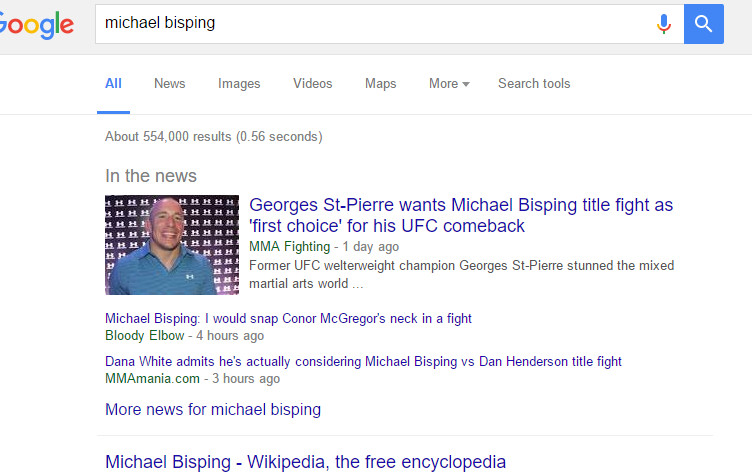 Anyways, not everybody is excited about GSP's return. Some fans think he should stay retired because so few great champions have the opportunity to go out on top. We're always stuck seeing them put in a few more fights than they should, which doesn't take anything away from their previous greatness but it can definitely tarnish their legacies – at least a bit.
UFC (and military) Veteran Brian Stann weighs-in on GSP's comeback:
Check out the Video on GSP come back on next page
Page 1 of 2: