Update: This post is BLOWING UP because so many people want to show their support for Mighty Mouse and we love it. Also, we want to clarify a few things. These screenshots came from DJ's Discord server, and were uploaded by a reddit user here. We are not journalists, this is a fan and opinion site which means we don't need to rely on the UFC to give us press passes or any kind of access, but we hope that some of the bigger MMA media outlets that DO rely on the UFC for press passes will still draw a line in the sand in support of Mighty Mouse and that they, along with fans, will refuse to be used as pawns in a game against the fighters.
First and foremost, we stand with the fighters who put it all on the line to entertain us, and the second we lose sight of that you're allowing the UFC to continue to use bully tactics. Also, we recognize that it's Dana's job to take the blame for stuff like this, but that doesn't mean he's some evil mastermind – he gets paid a lot of money to be the face behind unpopular decisions, but that doesn't give everyone else a free pass either. 
The UFC Is Allegedly Conspiring Against Mighty Mouse And It's Really Creepy
Seriously, when guys like Mighty Mouse, who are getting shafted by the UFC speak up, we as fans owe it to them to have their backs. It's not easy to speak out against your boss, and Demetrious Johnson has been such a loyal fighter for the UFC, he always shows up, he's always there to fight, and he's one win away from breaking the ALL TIME RECORD of title defenses.
You'd think the UFC could throw him some type of bone instead of trying to use the media to bully him into accepting fights, after they've already privately bullied him into accepting different fights. It's absolute madness, and we have ABSOLUTELY NO REASON IN THE WORLD to take Dana White's word for this over the word of Demetrious Johnson, who is a respectful, honest, hark-working fighter and one of the greatest – if not the greatest – to ever step inside the Octagon.
Alright, now that we've got that out of the way, let's dive in…
DJ and Dana have been going back and forth, with Dana announcing fights that Mighty Mouse hasn't even agreed to yet in an effort to bully him, and the UFC trying to screw around with Demetrious Johnson's paycheck in order to pressure him into fights. And it's not like DJ is looking for easy fights, he wanted a fight against Cody Garbrandt, Cody wanted it, and it would finally be a legitimate super fight, but then Dana and his henchmen basically said that nobody cares about the smaller weight classes.
DJ – we've got your back. This is total BS, and you laid it all out, and the fans are behind you, no question. We've seen these bullying tactics from Dana White for years, where he'll turn on some of the most loyal, skilled, and best role-models in all of MMA – yet he'll give chance after chance to fighters who drive drunk, abuse women, get caught cheating, and who knows what else. Remember when Dana totally threw GSP under the bus, too? Mighty Mouse isn't the first legendary champion to get this horrible treatment.
Dana went as far as to threaten to take away the entire flyweight division if MM didn't fight TJ Dillashaw instead of one of the other fights MM had already agreed to.
MM isn't afraid of TJ, let's get that clear, MM has one goal in mind and it's to win the record for title defenses and he doesn't want to get into a position where TJ misses weight, and MM is forced to either accept a non-title fight (which wouldn't count towards his record), or to ruin the event at the last minute by not accepting a bout with a larger fighter. We've seen how that goes, Dana White tried to turn everyone against Jon Jones at UFC 151 for not accepting a last minute opponent change.
In case you're not totally caught up on everything that's going on, here's the full post where Demetrious Johnson breaks it all down in his own words. Again, we're taking him 100% at his word because unlike Dana, MM has a good reputation and doesn't constantly spout off endless lies.
This is some REALLY messed up stuff, makes you wonder what else goes on behind the scenes that fighters aren't willing to talk about… and that's why we've all got to have DJ's back for this.
Here's the summary version, keep going for the rest of it. Spread this around if you respect what DJ has done for martial arts and the UFC and you want to let the UFC know they're barking up the wrong tree.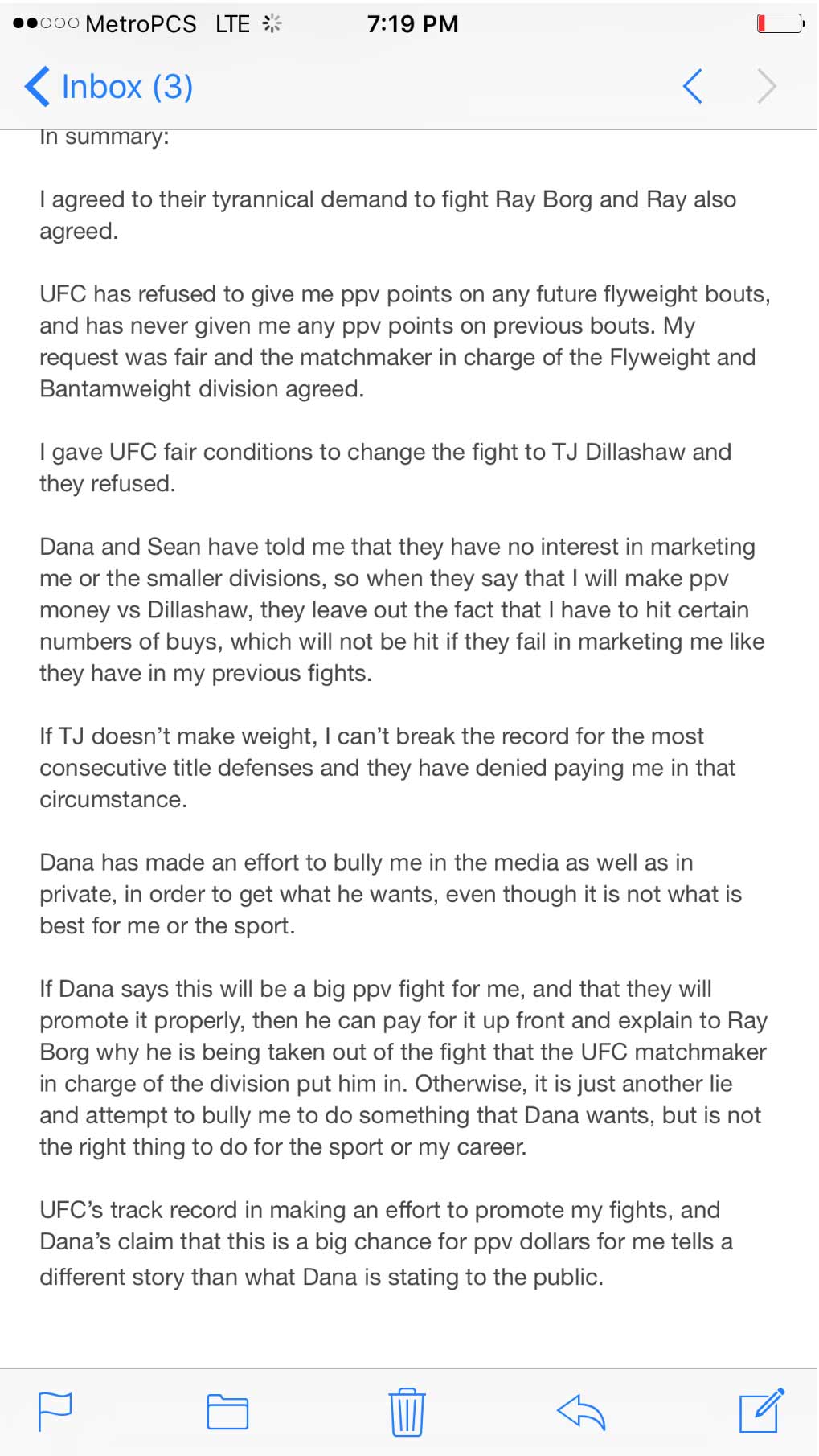 Here's the full, in-depth version of MM's teardown of the UFC's bs:
Continued on the next page…
Page 1 of 2: