Dana White is sick and tired of fights getting cancelled because guys are getting beat up in training camp from sparring too hard. Sometimes you're in there and your sparring partner starts to go a bit more than 70%, so you follow suit, and all of a sudden you guys are engaged in an all-out gym war.
Chute Boxe was famous for epic gym wars, but that can take years off of a fighter's career. Jamie Varner recently spoke out about it…
"My career got cut short because I was sparring three days a week, with bigger opponents. I had Ryan Bader, Aaron Simpson, Carlos Condit. Those were my sparring partners from like 2006 to 2010. So I had a lot of head trauma just sparring with those big guys." – Jamie Varner
There are certain gyms that produce a lot more injured fighters than others. Dana White recently referred to AKA (American Kickboxing Academy; home to Cain Velasquez, Daniel Cormier, Khabib, and more.) as being a "stone age gym" that's responsible for fighters getting injured much too often. When fighters get hurt, fights get cancelled and that's bad for business. It's bad for the fighters, their teams, the fans, the venues, and the UFC. Cain Velazquez and Daniel Cormier are famous for going all-out everyday in training.
"You can't have all the best guys in the world beating the shit out of each other everyday." – Dana White
The UFC is breaking ground on a huge new facility which will include a state of the art place to rehab fighters. Now, when a fighter gets injured, they won't just be left to their own devices – they'll be getting rehab under the watchful eye of the UFC to make sure everything is done correctly and that they aren't getting back to training hard too soon.
Surprisingly, AKA is near the bottom of the list when it comes to injuries. Check out this chart put together by Michael from LastWordOnSports.com that shows the injury rates among the major MMA camps.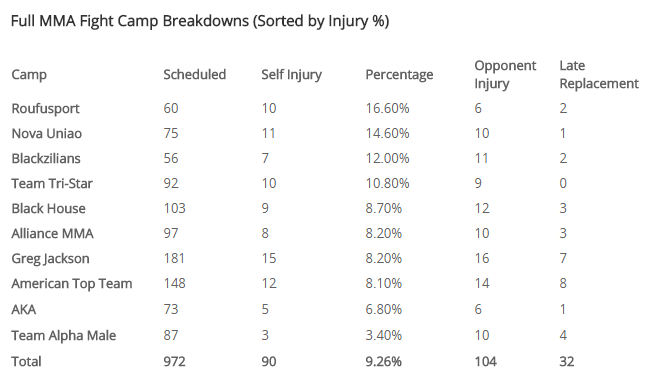 It's not a huge surprise to see Roufusport at the top, they're known as one of the grittiest gyms around (Even before a fighter of theirs died in his amateur debut.)
Keep in mind that Team Alpha Male, at the bottom of the list, is mostly comprised of little dudes so you don't have welterweights sparring with heavyweights or too many knockouts in training, and it seems to help.
Page 1 of 1: