The fight between Dada 5000 and Kimbo slice back in February at Bellator 149 was somewhat of an ugly one, the events that followed the fight stayed on theme, each situation being more ugly than the last.
When Dada 5000 fought Kimbo Slice at Bellator 149 the fight was highly criticised. Mainly because of the severe lack of pace.
The fight ended in the third round with Kimbo, almost equally as exhausted finishing Dada with a small flurry of punches. Sending Dada across the ring on weak and tired legs to where he fell.
Not many knew what was actually going on with Dada 5000. Dada, real name Dhafir Harris was suffering from exhaustion from losing so much weight in such a small space of time.
Dada had a list of problems, he suffered and was suffering from, a cardiac arrest, severe dehydration, fatigue, and if that wasn't enough, renal failure and not just one but two heart attacks.
Then the next ugly situation happened, three weeks later, Slice tested positive for steroids.
The fight then was put down as a non-contest. Now, Dada 5000 has said he would want a rematch.
Dada spoke of his recover and suffering from such medical nightmares: "This whole ordeal, you know, has been very, very trying because of the process I had to undergo. My kidneys went out during this fight. I was on dialysis for a couple of months. I had two heart attacks. I died inside that ring. They brought me back, and then my heart stopped. For like five minutes, they brought me back, and then my heart stopped again for like eight minutes. So, you know, I've been really trying just to bounce back, but I will say this. There is a lot more to this situation than people can imagine."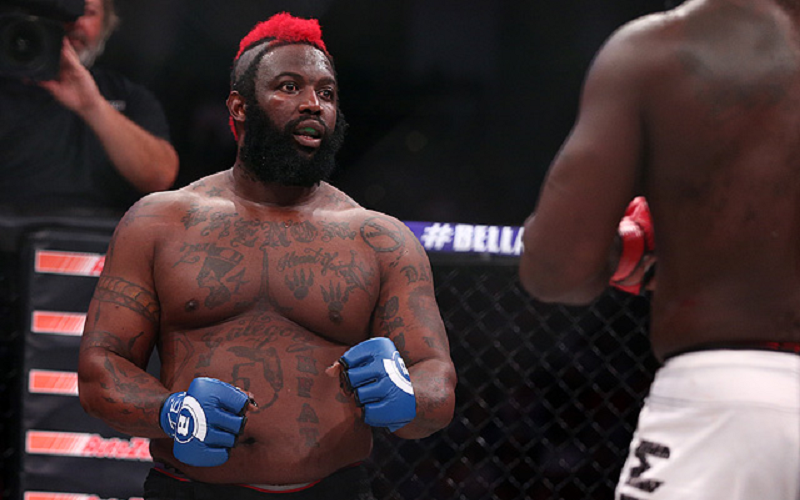 Dada spoke about Kimbo and them Steriods to Marc Raimondi of MMAFighting.com, "To beat me you got to cheat me. What's the honor in that?
"He can't beat me. If he is not on steroids, and well I'm not trying to take anything from anybody else, not even my corner. I rather have my mom and my brothers in my corner than anybody else. In this game, at this stage, you know, I don't trust anybody because everybody has to fight. Anybody can be compromised."
"I'm going to be honest with you. It wasn't upsetting because that's his M.O. Don't think he was just taking steroids for me. He's been taking steroids. He [took] steroids because he didn't feel comfortable not taking them because he didn't know how his body was going to react. He's been taking steroids. This time he just got caught."
When Dada was asked if he would fight Kimbo in a rematch, Dada said, "He wouldn't take that. I would beat him. He knows it. He knows it. Listen, I took him to deep waters and he was on steroids. At what point in time, a performance enhancement has not enhanced a fighter's performance? He looked like trash out there, and he was on steroids. But at the end of the day, I took his best. I've never been knocked out and I never will. I never will."
"I'll compete again. Maybe not against him, but I'll compete again. And even if not with Bellator or the UFC or none of those guys, I'll do it for myself. I own my own league… They know, when they said let the best man win that there is no BS going on inside of it…"
"Straight up, I'm a fair guy. If you beat me, hands down, man, I'll say you're the better man. But don't cheat man. Don't cheat me. No organization, don't embrace this cheating, man. And if you come out to talk like this, to let you know that Bellator don't like it, oh well, I was the one that was violated. What are you just going to slap the guy on his damn hand?"
"I understand this is a business that is fueled by money, so at the end of the day, they have to go with what makes them money. So I understand that but I just didn't want to be [a scapegoat] or guinea pig."
"I'm bigger than that. They thought that Kimbo Slice was going to come out uncompromised, he's on steroids, and he's going to walk through me and smash me in 30 seconds, killing the whole backyard momentum and everything. It didn't work like that. Yo, you had your way, and I still took your ass in the deep waters into third round. You did not hit me to make me go down. I had a heart attack. That's what put me on the ground. Not a blow from Kimbo Slice. He did not hurt me at all in that fight."
"If you see that fight, I took his shots, and I was still coming forward. If I was able to punch back like I should have, like I trained, before that f*ckery came into place, I would have knocked him out. I would have been holding my hands high… I know for a fact that my situation was not normal, and I will get to the bottom of it…"
Page 1 of 1: