Cris 'Cyborg' Justino is gunning for Ronda Rousey. A fight that she would like at 140 pounds.
Cris Cyborg was recently signed to the UFC and would of found herself in a massive fight if Holly Holm said she was interested in fighting her like she was months ago.
But now, Cyborg is looking at a fight with Rousey after her debut at UFC 198 against Leslie Smith.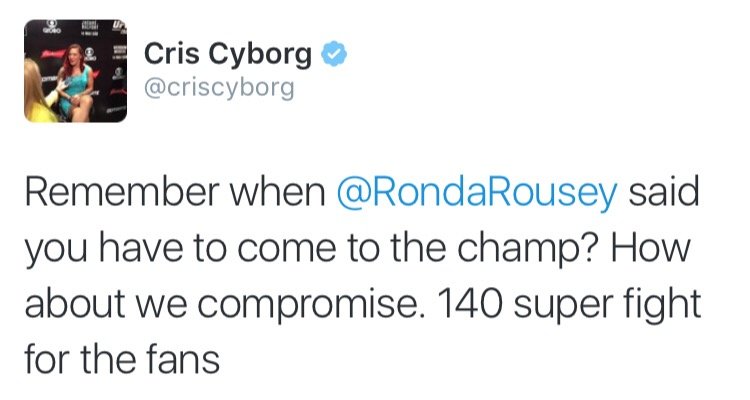 Cyborg tweeted, "Remember when @RondaRousey said you have to come to the champ? How about we compromise. 140 super fight for the fans."
Rousey was after an instant rematch with Holly Holm to try and avenge her loss and get her bantamweight belt back. But, Holy losing to Miesha Tate has put a major spanner in those plans.
Maybe a super fight with the current Invicta FC featherweight champion, Cris Cyborg would be the very thing Rousey needs to put her straight back on top.
As Cyborg is a fighter many are referring to as an unstoppable force in the MMA community.
Ronda has expressed herself many times when it comes to Cyborg in connection with drug taking.
"I've said before, I don't care if she's injecting horse semen into her eyeballs, I'll fight her, but that's just my personal decision," Rousey said when talking to Yahoo! Sports Kevin Iole. "But I can't make a decision for the whole division. I can't say it's the right thing. This girl has been on steroids for so long and [has been] injecting herself for so long that she's not even a woman anymore. She's an 'it.' It's not good for the women's division. It's not good at all."
Continue to next page
Page 1 of 2: