There has been non-stop talk surrounding UFC featherweight champion Conor McGregor over the past month or so. First off he retired on social media, only to retract that original statement.
Then we had his exclusion from the UFC 200 card for his rematch with welterweight Nate Diaz. For reasons to do with Conor not wanting to do his bit for the promotion of the show in July.
But now we have a new story that keeps circulating around, the possible match up with pound for pound boxing super star Floyd 'Money' Mayweather.
There were rumours going around that Floyd Mayweather Jr. could be making a return to boxing for his 50th bout. Something that would get the whole boxing world talking regardless of who his opponent would be.
But when that opponent if Irish UFC star Conor McGregor, it doesn't just get the boxing world talking, but the MMA world also. A fight that many hardcore fans of both sports have had much to criticise about. Saying this is a pure business idea rather than a fair fight.
Arguably if either man fought in their own sports, the man finding himself in uncharted territory will most likely struggle. But as Floyd Mayweather has said, he is the 'A side' so he makes the call. Floyd wants the fight to be under boxing rules. (Obviously).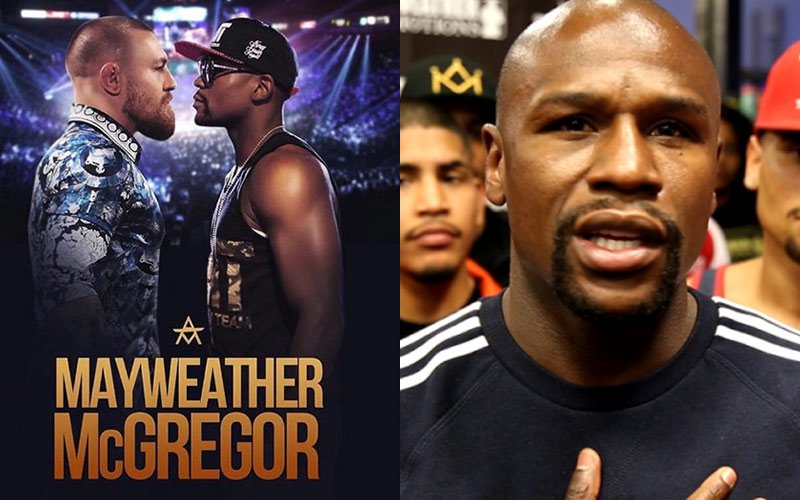 Floyd said, "It's really not a rumor. The fight may happen. We really don't know, as of right now. As of right now. But do I think the fight will happen? Absolutely. We're the A-side, of course. It has to be a boxing match, because most fights that Conor McGregor won inside the Octagon, he was a stand-up guy. So I'm pretty sure it's gonna be a tough fight for me. We really don't know as of right now, but there's been a lot of talk, and hopefully we can make the fight happen."
"He's no pushover. One thing about Conor McGregor, he's no pushover. He fell short in his last bout, but a true champion can always bounce back, so that's a guy I can't overlook."
"We haven't picked a venue, we haven't talked about money yet. I'm gonna get $100 million, of course. Every time I go out, that's my number. Every time I go out and get inside that squared circle, it's $100 million or better."
"I'm no longer a fighter. I'm an entertainer, a businessman. When I'm at home, when I sit back and really think about it, even though I really believe in my heart and my soul, and I know that I'm TBE, but being the best businessman on the outside is what I love more than being the best fighter inside."
"One of the best fighters to do business on the outside. To be in this situation, I made some smart, smart investments. I'm able to make seven figures a month for the rest of my life. I'm truly blessed."
Mayweather then spoke about the chances of him coming out of retirement. "50-50. 50-50. I'm pretty sure we have to find a venue! We haven't spoken on certain terms. I'm my boss on my end. I don't know what Conor McGregor can do, but I'm pretty sure we can make it happen. If the fans demand the fight, we can make it happen."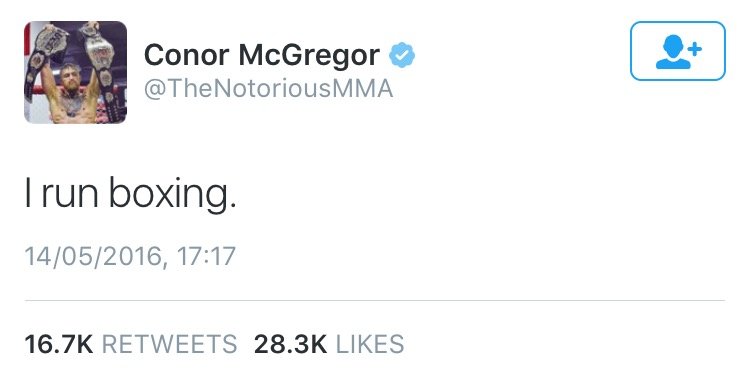 I run boxing.

— Conor McGregor (@TheNotoriousMMA) May 14, 2016
Conor responded today with an outrageous quote on Twitter saying, "I run boxing." Something that's a little far off from the truth as you can imagine. But to be fair, if he has his boxing debut against the modern day self confessed 'best ever' Floyd Mayweather, then that's not too bad of a statement.
As this really would be an achievement and would also significantly prove what an impact this fighter has had in the world of combat sports.
Page 1 of 1: