Conor McGregor has posted a picture to his Twitter that has added to the speculation of a potential multi-million dollar fight with pound for pound boxing star Floyd 'Money' Mayweather.
Along with Conor's picture post came the words, "MMA Vs BOXING"
MMA Vs Boxing. pic.twitter.com/qgl8tKvT5s

— Conor McGregor (@TheNotoriousMMA) May 8, 2016
Last night in Vegas, Floyd Mayweather Jr admitted to creating the rumours the Sun and Mirror national newspapers reported on that he was about to sign a contract to fight 'an MMA fighter.'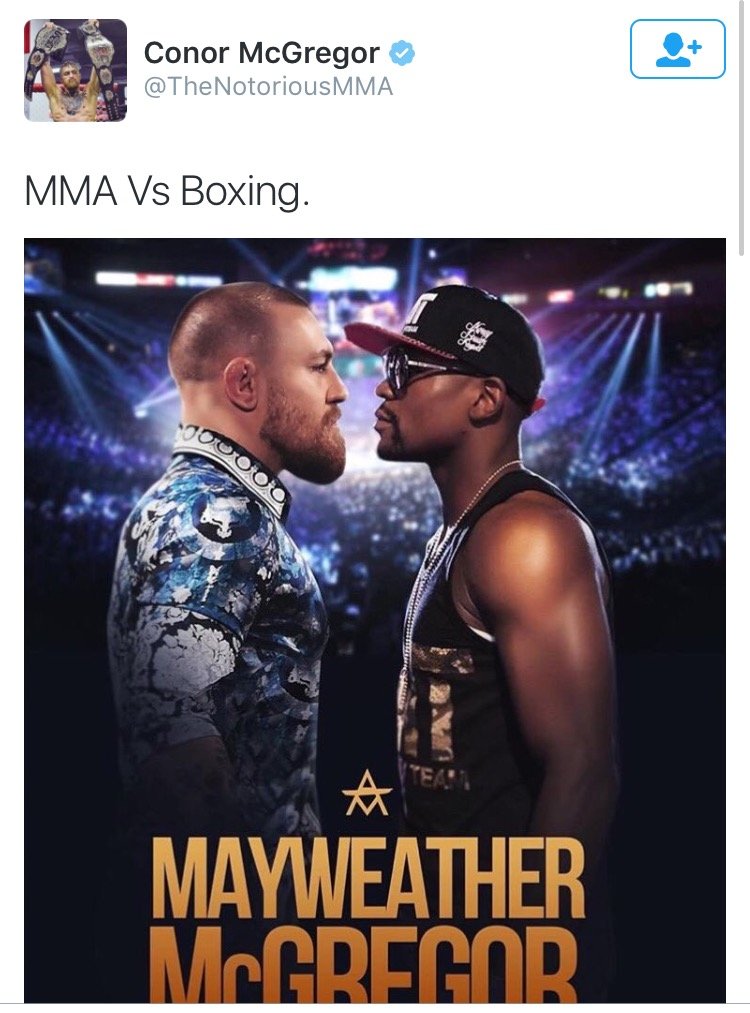 This story originally dropped late last week with talk of the fight potentially making a billion dollars.
The fight, if made, would be a pure boxing bout, no MMA to be seen, something that will make it a struggle for UFC featherweight champion Conor McGregor. I don't see McGregor being to unhappy though, as he'll be set to make 7 million plus from this fight.
The fight would no doubt take place in Las Vegas, the home of Floyd Mayweather Jr. at the MGM Grand.
Floyd Mayweather Jr retired in 2015 with his last fight being against Andre Berto where Floyd notched up his 49th consecutive win. A win that helped him level the all time record of amount of fights unbeaten in the boxing world.
Now both fighters, Mayweather and McGregor has added fuel to the flames of a possible showdown.
Time will tell where these two go from here. I'm sure this fight will create a lot of buzz as it will criticism. One thing is for sure, on a business angle, it'll be a hit!
Page 1 of 1: