Conor was at a Bellator event to support his teammate Charlie Ward. Though Ward was hurt, but managed to uncork and finish his opponent, which caused McGregor to storm the cage, land a celebratory take down on his teammate, and then get pulled off by the refs.
The only problem is that the fight wasn't over, it was the end of the round. This tweet explains: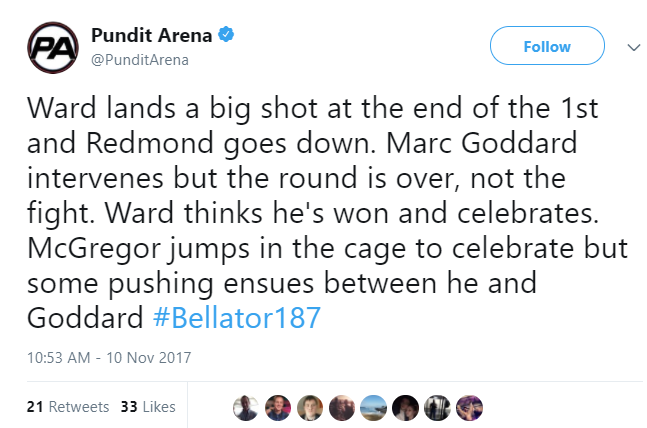 After being pulled off of his buddy, Conor went over to the ref who was looking at the other fighter who was still on the canvas, and Conor got in the ref's face and actually pushed him.
This is serious stuff. You can't hop in the cage from the crowd and start pushing the referee. It's completely not acceptable. Fighters have had their UFC careers ended over stuff like this, however something tells us this situation will be treated differently, for two main reasons.
1) This didn't happen at a UFC event.
2) This event didn't take place in America or under the watch of any of the American commissions.
On the other hand, it's kind of endearing to see how loyal Conor is to his teammates and the people he trains with. It's like he just loses it, for better or worse.
@TheNotoriousMMA jumps the cage for his teammate Charlie Ward and its all chaos. #MMA #ConorMcGregor #Bellator187 pic.twitter.com/gu9LZL8ORf

— Dutch Fight Network (@DutchFightNet) November 10, 2017
The reason Conor was going after that ref in particular was because the ref tried to literally push Conor off the cage as Conor was trying to climb in. Here's a video from another angle: (

See Video on Next Page

)
Page 1 of 2: