On Saturday night we will see Conor McGregor back in the Octagon after his sensational loss to Nate Diaz in the highly anticipated rematch at UFC 202.
With not much happening in the way of 'McGregor type controversy' in the build up to this rematch the fans have been thirsty for some. Well, they didn't have to wait too long into today's conference. First off, Conor was 15 minutes late, leaving a red faced Dana White to explain to the waiting world media how he will turn up.
Dana White wasn't too happy being left to explain the absence of McGregor: "So we're starting without him. He has to start respecting people's time."
Then, as the conference commenced, Nate Diaz decided to up and leave, which lead to bottles being thrown across the room over the heads of the media.
With this happening, you can guarantee that this will build a lot of interest and will most likely bump up the PPV numbers, we might even see the PPV sales overtake the first fight at UFC 196.
As Nate left, he said: "Fu*k your whole team! How about that?", Diaz could be heard yelling.
McGregor hit back with his response, "Fu*k your whole team! Little crackhead essays!"
As Nate was walking out, he was joined by his brother, Nick, both brothers threw Conor their custom single finger salutes.
"Shut ya fu*kin mouth! You'll do nuttin! You'll do nuttin! Not one a you's will do nuttin! Get the fu*k outa here! Get the fu*k outa here!", McGregor shouted.
Diaz, not liking Conor's words, decided to raise the bar, he threw his water bottle across the room at McGregor. Then, team Diaz all joined in, throwing bottles across the pack room.
Conor, not a man that likes to back down from a battle, started loading up on his ammunition, two arms full of bottles, which he threw across the room at team Diaz one by one. To the complete surprise of not only the watching media, but Dana White himself.
Dana was heard saying: "Hey, hey, hey, Conor, Conor. Don't throw those fuc… Conor! Conor!"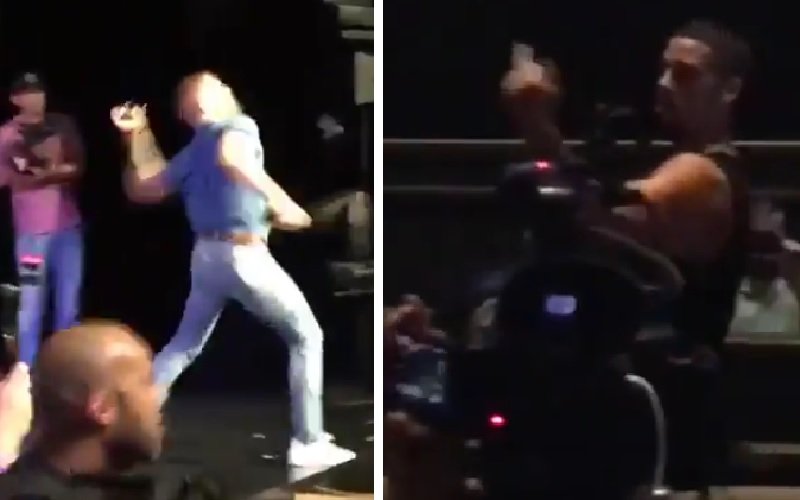 Dana then brought the whole press conference to an abrupt end.
"That's a wrap. Get him outa here," White said. Conor, go!"
After the press conference, McGregor spoke to LA Times reporter Lance Pugmire.
Conor spoke about what started the whole ordeal: "I just saw bottles being thrown and I just thought fuck that, you wanna throw bottles, I'll throw cans," McGregor said.
McGregor then said sarcastically, "But it was all in self-defence. I was scared for my life."
Check out the interview here:
Page 1 of 1: