It was recently decided that Wandelei Silva and Chael Sonnen will be coaching the next season of The Ultimate Fighter Brazil, which will take place early next year. Tryouts for this season are already underway in Brazil, and the heat's already turned up to 11 between these two coaches who have a rich history of really not liking one another.
It's an interesting match-up to say the least, and it shouldn't come as a surprise that Chael has his own ideas about how things should be going down. "It's official, I'll be responsible for representing our country and yes, I'll make him pay for everything he said about us," Sonnen wrote on Facebook. "I asked Dana to do a USA vs. Brazil season. He picks his fighters, the ones he believes are the best of the United States, and I'll pick Brazil's bests," Sonnen suggested. "You are fearful," He said. "You are afraid of me. And I will beat you up. I wanted to beat you up today. But I'm a professional, and I don't fight in the street. Real men talk face to face. With me the talk is straight up. I will punch your face. It will happen soon… The beating I will give you will be my gift to the people."Chael sounds eager to return to his home crowd in Brazil, a country that he loves dearly and a country that loves him dearly in return. He's a national treasure, and a chance to defend his nation's honor against someone like Wandelei is the type of thing that most fighters can only dream about.
The Good Guy vs The Bad Guy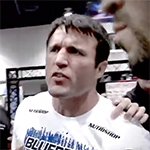 Chael Sonnen has been very vocal in his support of Brazil in the past and Wandelei is known for making a series of less-than-flattering comments about the South American country. The UFC has ordered extra security for Wandelei when he makes his return to Brazil for the first time in several years, and for his sake let's hope they know what they're doing. When asked by an interviewer if he is worried about being shot, Wandelei Silva had the following to say, "I think it is possible. I was more concerned with the possibility of lynching, maybe knife attack. But yeah I think getting shot is possible. But because I am a gangster, I don't live with fear. I do whatever I want, wherever I want… I would like to go to the beach. Dana White suggested very sophisticated security measures, more than I could have suggested."It doesn't sound like he is too concerned and most people realize that the things he's said about Brazil in the past were just to hype up fights, but all it takes is one crazy person to take things too seriously to pose a threat to Silva. Danger aside, this is shaping up to be a very exciting season of TUF Brazil. It is a classic story of the hero versus the bad guy.
How Will The Brazillian Fighters Handle It?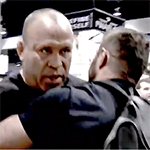 Unquestionably, the fans and fighters alike stoked to have Sonnen back in Brazil as a coach. On the flip side, there's been a lot of speculation about how the Brazilian fighters will feel about being coached by someone who has done so much to tarnish the reputation as their great nation but whether or not they will accept Wandelei"The American Gangster" Silva in their corner remains to be seen.
Page 1 of 1: