Tell me if you've heard this one. Nate Diaz had a brawl out of the cage. At the UFC 196 pre-fight press conference, the Skrap Pakk (my way of spelling it) got into it with Conor McGregor after McGregor hauled off and took a swing at Diaz, hitting him right in the hand. You can check it out here:
#UFC196: Conor McGregor vs. Nate Diaz Pre-Fight Press Conference Staredown https://t.co/Lr6ZKfEISE

— UFC Ireland (@UFC_Ireland) March 3, 2016

That could have been bad, but an fan of the Diaz brothers know that the Princes of Stockton have been in much bigger scraps than that.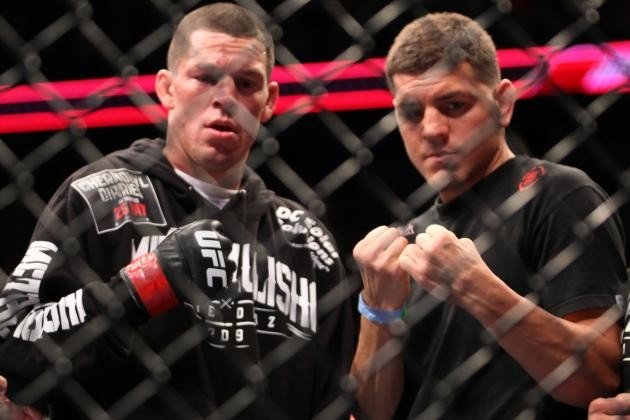 Here are some the biggest scraps of Diaz's career:
EliteXC: Return of the King
KJ Noons threw a wrench into EliteXC's promotional plans back in the day. EliteXC, you see, wanted to have Jake Shields, Nick Diaz, Gina Carano and Kimbo Slice as their champions. Nobody else. With that in mind, they set up a fight between Diaz and Noons at "Diaz Weight" (they had a special 160-pound division for him to rule over) with the expectation that he would win.
Well, that didn't happen. Diaz ended up losing in relatively controversial fashion due to a cut suffered against Noons, which in turn resulted in Noons getting the title. Noons would defend the title in his homestate of Hawaii by beating Yves Edwards and Nick and Nate Diaz would be brought into the cage to tease a rematch. That prompted one of the biggest brawls in MMA history, with former WCW wrestler Bill Goldberg being left to stutter on the microphone as the Diaz Bros. and Noons' camp went after one another.
Continue to the next page:
Page 1 of 3: