Jean-Claude Van Damme is well know for his kicking and badass moves, he was a massive movie star in the 1980's through to the 90's. Time isn't something that Van Damme fears.. He is now 55 and is just as in shape as ever.
It may not be known to all, but Van Damme studied ballet, this is what helped him be extremely flexible when it comes to his kicking and his kickboxing career. Many over the years have doubted Van Damme's actual fighting abilities. Some saying that his moves were just for the movies.. But, he still to this day has a very loyal following that believe this man to be one tough gun.
Jean-Claude had a very impressive amateur kickboxing recorded of 44-4, (I'd love to see the 4 guys that beat him!) his professional kickboxing career was even better, racking up a record of 18-1, with only one loss, this is why a lot of fans hold this man highly when it comes to him being a legit fighter.
Good news for Van Damme fans as he is starring in the upcoming Kickboxer Vengeance movie. A film that is believed to be a remake of the 1980's classic, Kickboxer. He stars alongside such legends as Cain Velasquez and Georges St-Pierre, as well as WWE legend Dave Bautista.
On a recent media tour promoting his new movie, Van Damme was on stage with a volunteer from the audience, performing some martial arts demonstrations. …And this is where it got a little messy..
The fan was very keen to take part, maybe a little too keen.. Being a huge fan and standing on a stage with his idol, I think this is what left the super fan getting too excited. When I say too excited I mean.. Well he kicked the living legend Van Damme square in the head!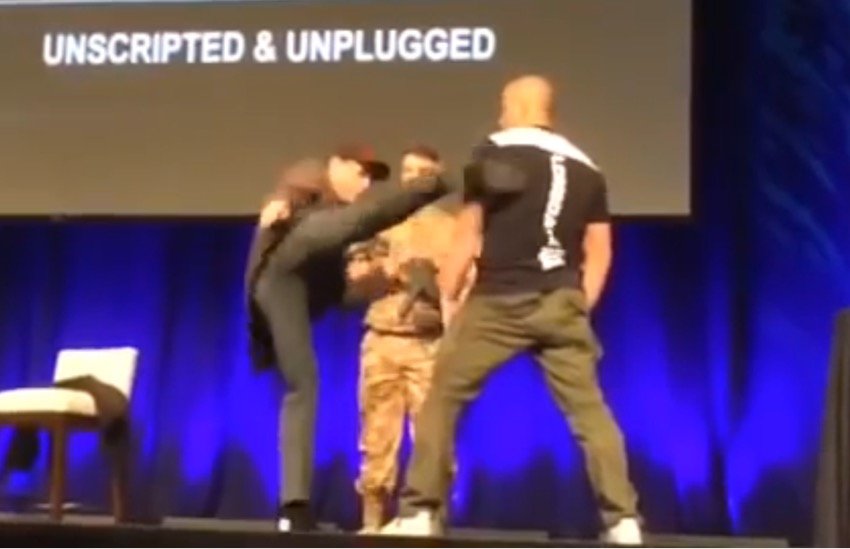 Van Damme took the kick very well, and acted like nothing had happened, which is more than you could say about the cap on the Muscles From Brussels head.. Which twisted around on impact. This must of been a very sticky and embarrassing situation for the super fan to be in, the first time you meet your idol, with in seconds, you've kicked him in the head..
Continue to the next page for full video:
Page 1 of 2: